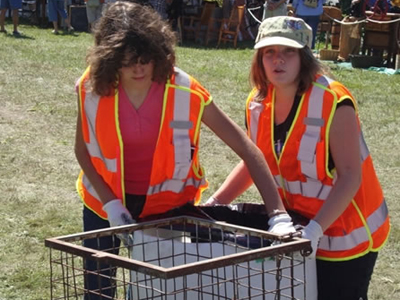 Cornwall - Jul. 8, 2011 - Cornwall, Stormont, Dundas and Glengarry is very fortunate to have so many dedicated volunteers who give freely of their time to make our communities better places to live. There are countless examples of caring volunteers making a difference in this area.

There are numerous volunteers who donate their time to groups, organizations and events such as: service clubs, hospitals, senior residences, fundraising events, churches, local fairs and festivals, theatre groups, school committees, community breakfasts/suppers, food banks, children's sports leagues and much more. It is impossible to quantify the time and effort these generous area citizens have put forth.

Without volunteers this area would not be able to boast about having one of the largest celtic events in North America - the Glengarry Highland Games, or Canada's oldest fair – the Williamstown Fair, or Ontario's only hot air balloon festival – Kinsmen Cornwall Lift-Off. In addition, Canada Day was filled with community celebrations from corner-to-corner of SD&G.

Add to this list, all of the community fairs, events like the Chesterville Rodeo and others, countless sports tournaments, many church socials, charity golf tournaments and so much more. Local community volunteer coaches have played a key role in the development of athletes such as Jesse Winchester of the Ottawa Senators, Christina Julien of Canada's national soccer team or Quebec Lightweight Boxing Champion Tony Luis.

I won't try to name every community group or successful athlete in the area, because it would be impossible. However, there are literally hundreds of area organizations that rely on volunteers for their very existence. There is no question that if you are looking to donate your time and expertise, there is a local group or organization that can use your help!

Often times, the work of the volunteer is neither glamorous nor easy. However, many jobs need to get done and thousands of area residents regularly step forward to make a difference in their community. Many hands make for light work.

Think about all of the great events and activities we get to enjoy in our area, and then for a second think about life should those volunteers no longer offer their services. Many of the things we have come to enjoy in our area, would simply no longer exist. Sometimes, it is not easy to be a volunteer as a result of criticisms received.

The volunteer organizers of community events give freely of their time and spend countless hours working hard to make a difference for the residents of the communities they serve. Perhaps, you may not always agree with how things have been organized, but never lose site of the fact that these volunteers choose to freely donate their time. They do not deserve to be criticized, challenged or asked to resign based on personal biases. Often times, the ones that complain the loudest are the same people that you never see volunteering themselves.

As the summer moves along and more volunteer events take place in our area, I would encourage those of you reading this to do two things. First, take the time to get out and support the many worthwhile events in our area and when you do, stop a volunteer or two and simply say THANK YOU to them for working so hard to make our region a better place to live.