| | |
| --- | --- |
| | |
Chicago Bears look strong in season opener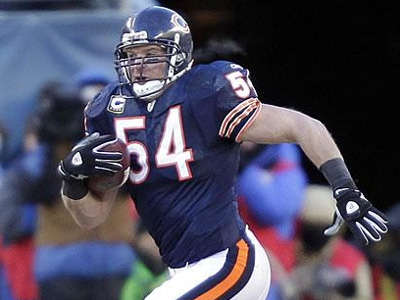 Cornwall - Sep. 11, 2011 - When the NFL released its' schedule for this season, I remember looking at the Bears' first three games and thinking that their performance in this trio of games would be a litmus test for the remainder of the season.

The Atlanta Falcons, New Orleans Saints and Green Bay Packers combined for 67 regular season wins and two Super Bowls over the last two seasons. Throw in the Philadelphia Eagles, the Minnesota Vikings twice and another game with the Packers - it was clear that it wasn't going to be easy to repeat as NFC North and NFC Conference Champions.

The Bears dominated from start to finish of today's game and came away with a 30-12 victory in the Opener at Soldier Field. Quarterback Jay Cutler who had a tough finish to last season, began his quest to answer critics throwing for 312 yards and two touchdowns.

The newly constructed offensive line looked better, however the four sacks they gave up still puts Cutler on pace for 64, which is 9 more than his league leading number a year ago. However, the new look, much-larger tight ends appear to be a postive change.

Matt Forte, who is hoping for a new contract, looked strong rushing for 68 yards on 16 carries and ran for a touchdown on a spectacular 56 yard screen play. WR Roy Williams who had four catches for 55 yards left the game in the third quarter. NOTE to Williams - enough with the showboating already. Bears' fans didn't like you much in Detroit for that crap either.

As usual though, the most impressive part of the Bears' win was their defence. The Monsters of the Midway held the Falcons' offence without a touchdown for the first time since last season's opener against Pittsburgh. Brian Urlacher lead the way with 10 tackles, one interception and a recovered fumble for his fourth touchdown of his career. The defensive front-four look particularly dominate registering five sacks and many hurries.

No doubt Altanta QB Matt Ryan is happy to see the end of Julius Peppers, Henry Melton and Canadian Israel Idonije.

There wasn't a phase of the Bears game that looked weak, as special teams also did their job. Devin Hester came close to breaking a couple big returns and Cory Graham seemed to be in on every tackle.

Head Coach Lovie Smith is often quoted about his desire to be on the right side of the takeaway-giveway ratio. Tonight the Bears won the turnover battle 3-1.

"It's not a good defensive game for us unless we can take the ball away," Smith told ChicagoBears.com. "Normally if you have a plus-two on the turnover ratio you're going to win 90 percent of your games. Our players understand that.

My OurHometown.ca colleague Glen Austen suggested that "Forte will be hard pressed to run the Bears to victory" and I must admit that this Bears' fan is happy that he was wrong. Still a tough go ahead for the Bears, but it is always nice to start the season with a powerful win - especially over one of the best teams in the league.

The Bears are in action again next Sunday when they take on the Saints in New Orleans. Hey D'arcy, are we wagering a couple of pints?

BEAR DOWN!
8,401 Stories & Growing Daily...
To date OurHometown.ca has posted a total of 8,401 stories! News, sports, hockey, lifestyle, opinion and more!

Be sure to check out our Contributors and Columnists archives!
Click on Photo or Story Title for more info
OurHometown.ca News Database Last Updated:
Dec. 31, 2021 @ 8:03 AM EST