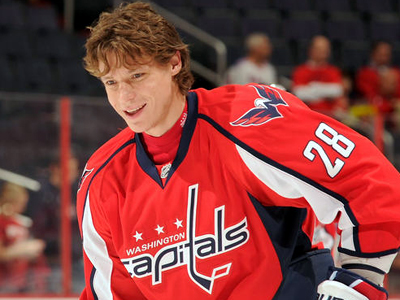 Windsor - July 23, 2012 - Toronto Maple Leafs' General Manager Brian Burke has been quiet on the Free Agent front so far this season. The three big names heading into July 1st were Zach Parise, Ryan Suter and Alexander Semin. The Minnesota Wild made a big splash by signing both Parise and Suter, but the Washington Capitals' Winger is still available.

It has been widely suggested that Semin is injury prone and that is at least part of the reason that he has not found a home, three and a half weeks after the opening of free agent frenzy. While Semin has never completed a full 82 game schedule in his NHL career, he has played 277 games over his last four seasons, which works out to an average of close to 70 games played per season.

It has also been suggested that Semin's heart no longer plays a significant role in the game that he brings to the rink each night. However, there is no disputing the talent that this Russian forward possesses. In the last four years, he has scored 123 goals, registered 271 points for an average of close to a point a game.

If you compare Semin's numbers over the last four years, no current Leaf can touch his numbers (see chart below). Phil Kessel is the closest with 261 points and 0.86 PPG. Only Mikhail Grabovski and Nikolai Kulemin are north of zero on the plus-minus scale over the last four years, but neither come close to Semin's +92 ranking over the same period.

Last season the Maple Leafs' ranked 10th in both power play percentage and goals scored. On a team that is struggling to find a number one goaltender, the extra fire power on the offensive side of the ice can't hurt.

It was recently reported in the Bleacher Report that Semin has turned down a lucrative contract in his native Russia. The popular website is reporting "that Semin was offered a three-year $30 million contract from the Sergei Federov-owned CSKA Moscow." As they suggested, if he was motivated by money – he would already have signed in the KHL.

Last season, Semin earned $6.7 million while playing for the Washington Capitals. It appears to be clear that he will not earn that kind of money going forward should he wish to remain in the NHL. Perhaps Burke could take a flyer on him and get him for around $5 million per year, if he offers a three year deal.

There has been lots of speculation that the Carolina Hurricanes are a front runner to land Semin. The Hurricanes could very well be one of the teams in the mix to fight with the Maple Leafs for a playoff berth in the Eastern Conference.

Through the acquistion of Alexander Semin, the Leafs will gain some depth up front and this will free up an asset or two that they can package in a deal to secure a starting goaltender. Recently, I suggested that the Leafs should forget Roberto Luongo and pursue Jack Campbell from the Dallas Stars.

When Burke arrived in Toronto, there was an expectation that he would turn the Leafs into a playoff team in three to five years. If that is his benchmark, then really he cannot be judged until the summer of 2013. Burke took over the helm in the ACC on November 29, 2008, so if he has five years to get the Leafs into the playoffs, he has to do it before the end of the 2012-2013 season.

Now is the time to make it happen Brian!