| | |
| --- | --- |
| | |
Could the Luongo situation have lead to the demise of Brian Burke?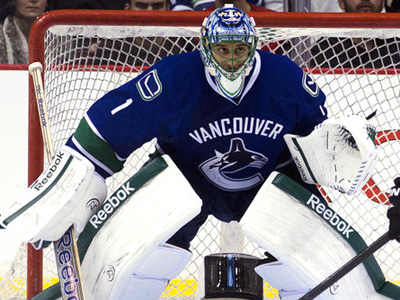 Windsor - January 9, 2013 - The Toronto Maple Leafs shocked the hockey world today with the surprise firing of President and General Manager Brian Burke. Burke took over the helm in the ACC on November 29, 2008 and when he arrived in Toronto, there was an expectation that he would turn the Leafs into a playoff team in 3 to 5 years.

If that was to be his benchmark, he would have had to get the Buds in the playoffs before the end of the 2012-2013 season.

The timing of today's change makes many believe that there was more at play than meets the eye. If the Leafs were planning to change the GM, why would they let Burke choose the coach at the end of last year? Why did they leave Burke in place to handle the NHL Entry Draft? Why did they wait so close to the start of the upcoming shortened season?

There has been much speculation in NHL circles that the Leafs were in play as a possible destination for Vancouver Canucks goaltender Roberto Luongo. Is it possible that there was an internal disagreement on the direction the team would pursue with the veteran netminder? Could that have lead to Burke's demise?

Rumour has it that Burke was never overly interested in making a deal for Luongo. Personally, I agree with that position as I don't believe Luongo is the right fit for Toronto.

Since arriving in Toronto, Burke has made a number of big moves. First he moved two first round picks and a second for sniper Phil Kessel and then he shipped Nicklas Hagman, Matt Stajan, Jamal Mayers and Ian White to Calgary for the Leafs' current captain Dion Phaneuf, Fredrik Sjostrom and Keith Aulie. He seemingly stole Joffrey Lupul and Jake Gardiner from Anaheim. This past summer, he moved Luke Schenn to Philadelphia in exchange for James Van Reimdyk.

Again, I like each of these trades!

Burke was one of those guys that either you loved him or you hated him. For me, I was a fan of Burke's. I liked his style. He called things as he saw them and there was no BS with Burke.

I think my Bears made a mistake canning Lovie Smith and I feel the same today about this firing!


8,401 Stories & Growing Daily...
To date OurHometown.ca has posted a total of 8,401 stories! News, sports, hockey, lifestyle, opinion and more!

Be sure to check out our Contributors and Columnists archives!
Click on Photo or Story Title for more info
OurHometown.ca News Database Last Updated:
Dec. 31, 2021 @ 8:03 AM EST