| | |
| --- | --- |
| | |
Emery drops the ball, Urlacher should still be a Bear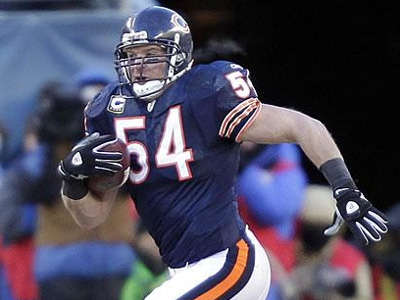 Stoney Point - March 21, 2013 - No doubt, an NFL General Manager can't please everyone as there are a lot of tough decisions to be made. In his short tenure as the GM of the Chicago Bears, Phil Emery has made some good moves and some bad ones. Not finding a way to sign Pro Bowler Brian Urlacher is his most glaring goof up.

Urlacher registered 68 tackles and returned an interception for a touchdown last season, despite missing the final four games of season. Number 54 was the face of this storied franchise and without question was its greatest leader - both on and off the field for the last 13 seasons.

No doubt, Urlacher was a step slower last year than during his prime - however a slower Brian Urlacher is still better than most middle linebackers in the league. Beyond his skill levels, his leadership will be missed the most. Its clear that Jay Cutler doesn't have the genetic makeup to replace Urlacher as the Bears leader. Charles Tillman, Julius Peppers or Lance Briggs appear to be the most likely to step up.

It has been reported that the Bears offered a one year contract at $2 million and that Urlacher would have signed for $3.5 million for next year. How do you not find $1.5 million to sign the face of your franchise?

The Chicago Tribune is reporting that "Briggs, Urlacher's tag team partner at linebacker was too emotional to talk about his friend's abrupt departure when contacted by phone Wednesday."

In other moves, coach Marc Trestman has announced that Devin Hester will no longer be used as a wide receiver. Good call. Let's hope Trestman can teach Hester to run forward on kick returns! Emery signed defensive end Turk McBride yesterday. It appears very likely that this will spell the end of Canadian Isreal Idonije's time in Chicago. If that is the case, it will be another mistake by Emery.

It will be a different season for Bears supporters this fall. Personally, I was a big fan of former Head Coach Lovie Smith, Idonije and Urlacher. There is a very real possibility all three will be gone next season.

Ray Lewis is no Brian Urlacher and look at how the Baltimore Ravens treated him! The Chicago Bears are a better team with Brian Urlacher. Period. The National Football League is a better league with Brian Urlacher and here's hoping that number 54 signs on with a Super Bowl contender!

Brian, you will be missed. Thanks for the memories!


8,401 Stories & Growing Daily...
To date OurHometown.ca has posted a total of 8,401 stories! News, sports, hockey, lifestyle, opinion and more!

Be sure to check out our Contributors and Columnists archives!
Click on Photo or Story Title for more info
OurHometown.ca News Database Last Updated:
Dec. 31, 2021 @ 8:03 AM EST