| | |
| --- | --- |
| | |
Waterfront Tank Farm debacle falls on Lauzon's feet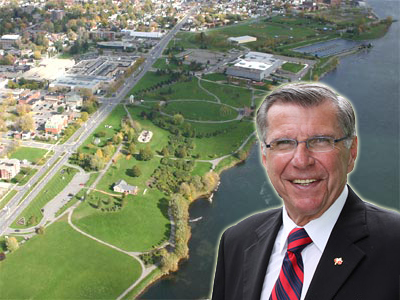 Stoney Point - December 11, 2013 - There are many people in the City of Cornwall who have expressed displeasure in the Federal Government's decision to re-institute a tank farm along Cornwall's waterfront. As this story unfolds and more manure hits the fan, fingers are pointing in many directions. Interestingly, MP Guy Lauzon seems to have the least amount of fingers pointing towards him and his government - which I find surprising.

The tank farm is on Federal lands and this entire debacle falls on the feet of Lauzon and the federal government.

There is no doubt in my mind that the federal government and the associated bureaucrats had to be aware how politically sensitive the notion of re-instituting a tank farm along the community's waterfront would be. That said, it is hard to believe that officials from the Ministry of Transportation would not have briefed Lauzon on this impeding lease agreement.

So, if this assumption is true and Lauzon was briefed, why did he not take action well before this?

The other side of coin is that this happened without Lauzon's knowledge, as has been reported in Cornwall media. The MP was quoted as saying that he "was not aware of anything going on there."

So, if this is true, how can Lauzon be so insignificant in his own Caucus that something so controversial could happen in his backyard and he wasn't briefed?

To be honest, it is a difficult pill to swallow that this deal could fly below the radar of the Conservative Caucus Chair (since 2008). Vegas odd makers would likely fall on the side that would suggest Lauzon had to have been briefed.

Since the story broke late last week, Lauzon has not issued a statement and the only story on his website since is about organ transplants, but nothing about this issue.

Guy, there are two important questions that your constituents deserve an answer to: 1) Were you briefed in advance and if so, why didn't you take action? 2) If you weren't briefed in advance, how can our riding be so blatantly overlooked?

As I type this, Mr. Lauzon is addressing the crowd at the Cornwall Civic Complex. Let's hope that he is addressing these salient questions and if not, lets hope that he will send OurHometown.ca a response.



8,401 Stories & Growing Daily...
To date OurHometown.ca has posted a total of 8,401 stories! News, sports, hockey, lifestyle, opinion and more!

Be sure to check out our Columnists archives or, why not Contribute a Story yourself!


OurHometown.ca
offers a very generous revenue sharing opportunity for our Columnists. If you are interested in learning more details about writing for us, please send us an
EMAIL.

Click on Photo or Story Title for more info
OurHometown.ca News Database Last Updated:
Dec. 31, 2021 @ 8:03 AM EST