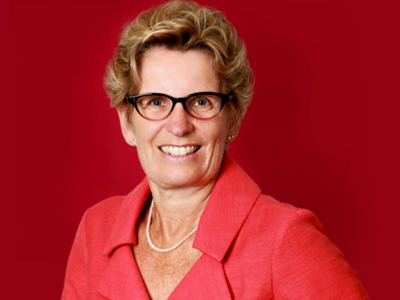 South Dundas - March 11, 2014 - Spring is in the air, and along with it comes the sweet smell of Liberal handouts. Ontario Premier Kathleen Wynne and the Liberal Party machine has handing out taxpayer money again all over Eastern Ontario. Money that the province doesn't have because it is broke.

The most recent example of this handout is the one million dollars handed out to the St-Albert Cheese Cooperative on March 10th. St-Albert suffered a fire last year which leveled the entire plant and threatened the livelihood of most of the residents of the village, located east of Ottawa. Around these parts, St-Albert Chesse isn't just food, it's an institution to many. This fire happened over a year ago, but now, when the plant rebuilding is almost finished, in comes the Premier with one million dollars to help out. Great for the co-op, bad for taxpayers.

Why are taxpayers giving this money to a business? It was insured against fire, and that insurance along with the co-op's own money, has gone into the rebuilding process. Yet it is election season, and the riding is a Liberal riding, held by MPP Grant Crack, so the Liberal machine gave out one million dollars. The plant is slated to be completed in the spring, with other expansions planned to open in the summer and fall. Yet they received taxpayer's money. All of the rebuilding and expansions at the plant were announced long before Premier Wynne and the great Liberal handout rode through town, yet now they get a windfall at taxpayers expense.

This is not against the folks at St-Albert, I am against government handouts in general. Chrysler wanted millions in provincial investment for their auto plant, which they subsequently backed off of. The new operation for the Heinz plant in Leamington will have some government money involved. Every time you look around some group or company is getting a handout from the Liberal government.

There are good investments of tax money out there, such as replacing schools which have had mold problems for three and a half years. Then there are bad investments, such as gifts to corporations to save seats. Why did it take Ottawa Centre MPP Yasir Naqvi so long to announce a school replacement? It wasn't an election year. Why did it take a year for Glengarry-Prescott-Russell MPP Grant Crack, and the Premier, to announce money for St-Albert?

Wynne's Magical Money Tour is nothing more than sweetening the pot before the next election, likely to be held this spring. But just like the expense of those gas plants that were cancelled to save two seats last election, the end result will be the same. The taxpayer pays and the Liberals benefit.