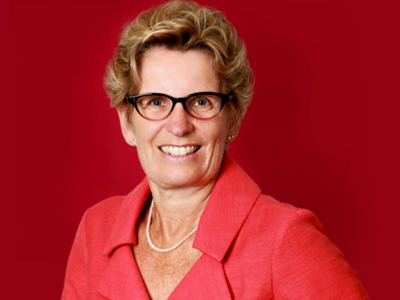 Stoney Point - June 25, 2014 - I have had the privilege of living in both the eastern and western extremes of our great province. When I lived in Cornwall, I often heard community leaders remind the provincial government that Ontario did not end at Kingston. When I moved to Canada's south, I have heard similar comments that the province does not end at London.

Yesterday, OurHometown.ca received a media release from Premier Kathleen Wynne and one sentence in particular in the release caught my attention:

I will lead an open and transparent government that is guided by integrity and informed by the profound responsibility to make life better for everyone across Ontario – from Kenora to Cornwall to Chatham.

While there appeared to be considerable irony in the words "open, transparent and integrity" from the Liberal Leader, I was stunned to read that the Premier didn't wish "to make life better" for those of us who call Windsor-Essex home. Apparently the 401 doesn't end in London, but according to her it stops at Chatham. Really?

Former Ministers Dwight Duncan and Teresa Piruzza have been replaced by NDP members in Windsor and all three seats in the region have now gone orange.

Is this reason that the Premier issued such a slight to this region? Now that the Liberals no longer have a seat in Windsor-Essex, will this government forget about us?

I believe that the Premier owes the people of Windsor-Essex both an explanation and an apology.


PC Party to search for new leader
With the resignation of Leader Tim Hudak, the Ontario Progressive Conservative Party is looking for a new leader. Yesterday, Whitby MPP Christine Elliot officially threw her hat into the ring. The widow of former Finance Minister Jim Flaherty sought the leadership last time and came third behind Hudak and Frank Klees.

PC insiders have suggested that there may be a large field of candidates in the mix. Names that have surfaced include Lisa MacLeod, Monte McNaughton, Vic Fedelli, Patrick Brown, Michael Chong and Rick Dykstra. No formal dates have been announced yet.


NDP need a new leader?
Andrea Horwath is 0 for 2 in elections as the NDP Leader. In this last loss, she saw her significance in the House reduced due to fact that the Liberal's got a majority. Last term, she carried the balance of power – now she and the new PC Leader will have no influence on the government for four years. Hudak got two chances and is gone. John Tory was forced out after his defeat in 2007. I often wonder how things might have turned out, should Tory have gotten a second chance, like Hudak did.

Does this situation now spark a review of Horwath's leadership of the NDP party?