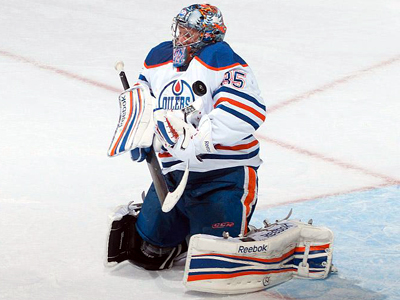 Whitby - November 9, 2011 - The Montreal Canadiens ran into a hot goaltender on Tuesday night. The 'Bulin wall was rock solid as the Edmonton Oilers silenced the Canadiens 3-1. The game was a back-and-forth affair as the Canadiens outshot the Oilers 29-14.

The Canadiens' demise on this night was threefold:

1. Nearly unbreakable performance by Nikolai Khabibulin

2. Canadiens' embarrassing special teams - Oilers' penalty kill unit outscored Canadiens' power-play unit

3. Canadiens' lack of finish The first period was uneventful and scoreless as Montreal was outshot 6-4 by Edmonton. The only bright light was rookie defenseman Alexei Emelin who delivered three hits on Edmonton skaters. His nicest hit of the night was an open-ice hip-check on Ales Hemsky with only five minutes left in the opening frame.

The second period saw both teams come out flying. At the 2:04 minute mark, Khabibulin closed the door on a pretty give-and-go by Michael Cammalleri and Erik Cole in close. One minute later at the opposite end of the ice, Montreal's Carey Price rose to the challenge when he stopped a point-blank shot in the slot by Oilers' centreman Anton Lander.

Edmonton's forward Ryan Jones registered a short-handed marker at 4:38 of the second period after Tomas Plekanec blindly passed the puck to Jones. Plekanec was the last man coming out of Montreal's zone on a Canadiens' power-play. Plekanec played his worst game as a Canadien on home ice on Tuesday night.

While not tested to a great extent, Carey Price came up big when needed for the Canadiens. If it weren't for Price, the score could have been alot more damaging to Montreal.

In unison with Plekanec's unsatisfactory power-play performance from the back-end was teammate Rafael Diaz' puck cough up to Edmonton's Ryan Smyth on a subsequent Montreal power-play half-way through the second frame. The Diaz cough up allowed Smyth to waltz in all alone on Price. Price calmly turned Smyth's shot aside with ease.

Former NHL goaltender Marc Denis, now sports analyst for RDS, interviewed Canadiens' assistant coach Randy Ladouceur during a stoppage in play. When asked what Ladouceur's biggest challenge was, Ladouceur commented "getting to know the players a bit more, knowing their personalities. It's a different game (behind the bench) from up in the press box."

Ladouceur's comments were significant as this consistent revolving door of Canadiens' players on the power-play (PP) and penalty kill (PK) units is becoming hard to watch game-after-game. After 14 games (5-7-2), Montreal still does not have a concrete set of skaters for either the PP or PK units. The PP was atrocious tonight (zero-for-six, three shots on goal).

It is time for Jacques Martin to give Mathieu Darche, Erik Cole's spot on the bench during PP opportunities. Cole continues to play with heart, determination and grit, shift-after-shift. Cole was one of Montreal's few bright spots on Tuesday night.

Edmonton carried a 1-0 lead into the second intermission that saw Montreal fire 13 shots on goal to Edmonton's 4 in the second frame.

Midway through the final frame, a few thoughts came to mind. Khabibulin shut the door on Max Pacioretty in the slot at the 3:33 minute mark. The 'Bulin wall was evident throughout the game. At the nine-minute mark, defenseman Yannick Weber gave the biscuit away on two different occasions on the same shift, one giveaway that led to a Ryan Smyth shot that chimed off the crossbar behind a surprised Carey Price.

Edmonton's kid line was relatively quiet on this evening. One bright spots for the trio occurred near the 14-minute mark whereby the kids owned the Canadiens' end of the ice for more than a minute as they cycled down low and contained the Canadiens a critical point in the game.

David Desharnais was overpowered and outsized time-after-time tonight. Desharnais has the wheels and playmaking abilities, but it is hard to watch him getting shut down so easily by his opponents - no matter who the opponent was. When Scott Gomez returns to action, I would not be surprised to see Desharnais moved to the wing with Gomez taking his place up the middle. At 16:28 of the third period, Edmonton defenseman Tom Gilbert netted the game winning goal on a point shot that was deflected by Montreal's blue-line duo of Yannick Weber and Josh Gorges.

Only 22 seconds later, Montreal tried to make a game of it when Max Pacioretty backhanded a low shot that sneaked through Khabibulin's five hole. Pacioretty's goal electrified the Bell Centre (21,273) crowd.

However at 19:18, Ryan Smyth sealed the Oilers' victory with an empty net goal. The announced three stars of the game were Michael Cammalleri (3rd star, 20:33 ice time, minus-2, zero points), Edmonton's Ryan Jones (2nd star, one goal, plus+1) and Khabibulin (1st star, .966 save percentage, 28 saves). With Tuesday's loss, the Canadiens now sit in second last place in the Eastern Conference, two points ahead of the New York Islanders. Montreal also sits in last place in the NorthEast Division. Montreal now prepares for a short western trip to Phoenix on Thursday and Nashville on Saturday.

Hopefully this excursion will give the Canadiens a chance to re-group.


For the complete NHL.com Boxscore, please find the link here:

Until next time, play every game as if it your last one…