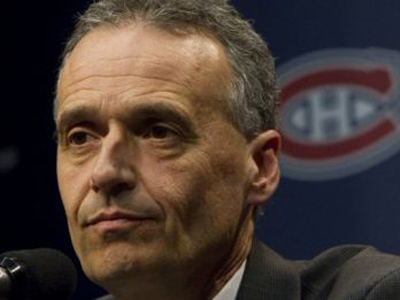 Whitby - February 22, 2012 - The Montreal Canadiens currently sit in a 3-way tie for 11th place in the NHL's Eastern Conference, 6 points out of the final playoff spot. Their AHL affiliate team, the Hamilton Bulldogs, also sit on the outside looking in at the final playoff spot. The Bulldogs sit in 12th position of the AHL Western Conference, 6 points behind the 8th place, San Antonio Rampage.

What does all this mean to the average Canadiens' fan? It means that it is time to restock the cupboards and face the harsh reality - the current version of the Montreal Canadiens is just not talented enough to compete on a nightly basis with the NHL's top teams. Every Habs supporter can admit, the team can play an entertaining style of hockey when each and every player is giving 110 percent. However, the problem with this year's version of Les Bleus-Blanc-Rouges stems the fact the entire team is too inconsistent from game-to-game.

Apart from Montreal's top line of Max Pacioretty, Erik Cole and David Desharnais, there has been little excitement from the Canadiens' three remaining forward lines, from a point-production-standpoint.


A Dynasty in the Making?
Let us be honest, it has been difficult at the best of times over the past few years to be a Habs fan. We have all seen some highs; we have all witnessed many lows from the team. If the Canadiens ever want to get back to a Stanley Cup contending team laden in rich offensive talent as those Canadiens teams of the 70?s, and I do believe this to be true, than Montreal Canadiens' team owner Geoff Molson needs to sit down with General Manager Pierre Gauthier about the direction of his organization.

Sell, sell, sell should be the mantra of the club going forward over the next six days leading up to the trade deadline date of February 27th. One cannot honestly look at the current roster and believe in their heart-of-hearts, this team has enough mustard to inch their way back into the eighth and final playoff position in the Eastern Conference. Even if GM Gauthier made a couple of trades to improve his club's current offensive woes, it still wouldn't be enough to get this organization past the first round of the 2012 Stanley Cup playoffs.

To improve the club now to compete more consistently this season would be a short-sighted view and would not be benefiting the organization in the long-term. Montreal's salary cap alone is restricting the club from acquiring any of the possibly big names (Rick Nash, Bobby Ryan, Ales Hemsky) being bandied around as of late.

If the Canadiens want to look at creating a dynasty once again, a lot of the 'fat' needs to be trimmed away for youth and talent. When I say 'fat', I mean fringe players.


Who is Available?
One would have to think that apart from Carey Price, Max Pacioretty, P.K. Subban, Alexei Emelin and a few others, most of this year's roster should be made available to any NHL team that comes calling.

Chris Campoli, Andrei Kostitsyn, Travis Moen and Mathieu Darche are UFA's come July 1st. Any or all of these four skaters should be actively shopped around, if not already. Moen has been a bright light this season considering what he has accomplished with the limited talent he possesses. The Canadiens might want to hang onto him if the price is not right.

My worry with any of these four skaters mentioned is the fact that most of the other 29 NHL teams will not want to pay dearly for any of their services due to their limited usage or shelf life. I guess if Dominic Moore can get traded time-and-time again, why couldn't a Mathieu Darche or an Andrei Kostitsyn?


Who should Montreal be looking to acquire?
Montreal's lack of size and lack of regular producing offensive skill up front on their offensive corps needs to be improved dramatically.

Hell, the Canadiens' AHL affiliate alone requires a major facelift as the talent pool on the farm is nearly empty. With Hal Gill being moved out of Montreal last week, it looks like GM Gauthier has begun to do just that - restock the cupboards with prospects.

Here is my short list of possible acquisitions by the Canadiens to benefit them for many years to come in Montreal:

1. Jeff Carter, C - The Canadiens need a presence up the middle and Carter could provide it. The experiment in Columbus has not worked, whether it be due to injury or lack of chemistry among Carter and his new teammates. Carter is 27 years old and is in the prime of his playing life.

2. Derick Brassard, C - 'Plan B' for Montreal if Carter is not available. Brassard hasn't had much luck in Columbus and perhaps it is time for a change in scenery for this 24-year-old.

3. Ryan Suter, D - This is my boldest prediction but is one that has a very short shelf life (the prediction, that is). One would have to assume that if Montreal had any chance at landing this stud defenseman, they would have already when they sent Gill to Nashville last week.

4. Joe Colborne, C - Is a trade with the Toronto Maple Leafs a possibility once again? For those of us lucky enough to see Colborne play in the Centennial Cup in Cornwall with the Camrose Kodiaks back in 2008, realize this giant of a kid (Colborne is currently 6'6? and is still growing) has enough talent to be a top-six forward on any NHL team. Sports radio station, TheFan590, in Toronto has mentioned that Colborne could be moved at the deadline if the Leafs could find a player in return that would help them in their drive to this year's playoffs.

Please keep in mind, this is all speculation, but the visions are tantalizingly refreshing!

Until next time, play every game as if it is your last one…