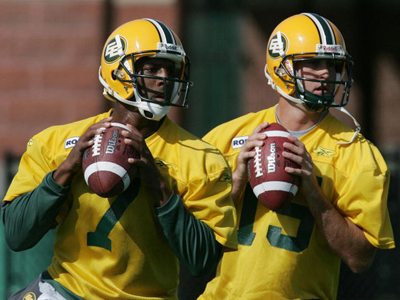 Edmonton - Apr. 23, 2012 -

Be careful what you ask for as you just might get it!

This old adage won't ring any more true than for fans of the Edmonton Eskimos during the upcoming 2012 CFL season. For a few years now, fans have lamented star quarterback Ricky Ray and his inability to lead the Esks to match the expectations from the success created in years gone by. Having missed the playoffs in three of the past six years, the general feeling amongst the faithful is that perhaps a change at QB was needed. In spite of his success: over 40,000 career passing yards, a 96.1 QB rating and two Grey Cup championships, fans have continued to focus on the negatives. His lack of arm strength and mobility, along with his seemingly lax demeanor, which has been at times interpreted as apathy, has always been a point of contention with many fans. On December 12, 2011 general manager Eric Tillman accommodated those calling for a new direction, by trading Ray to the Argos for Canadian Kicker Grant Shaw, a 2012 first round pick and quarterback Steven Jyles. Ironically, Jyles is a former Eskimo.

When you look at the stats, the trade is likely not what the Eskimos' faithful had envisioned. The twenty-nine year old pivot heads back to town with a modest 5,319 career passing yards, a 59.9 completion percentage and average 81.7 QB rating. The most glaring stat of them all: two Grey Cups for Ray and none for his replacement. In Jyles, the Esks are inheriting an unproven commodity and are giving up on a tried, tested and true formula. The fans may have been given the change that many were looking for but with it comes uncertainty. For all his success, Tillman has been known to take risks. Lest we forget, he won the Grey Cup with the likes of Danny McManus and Kerry Joseph. This will be yet another one of those risks.

If you are like me, since December 12th you have been waiting for the 'next' quarterback to be brought in. There was no way the Eskimos were going solely with Steven Jyles was there? Invariably, it appears that he is their man. For a franchise looking to regain its lustre, the challenge in front of him can at first glance look very daunting. However, this will not be the first time the Eskimos have placed their faith in an unknown. The six year CFL vet brings with him a canon for an arm and tremendous mobility. Does he remind you of a former Eskimo great in Tracy Ham? The pre season will provide an exciting opportunity to see what he can bring to the table.

The question then becomes, how long will the honeymoon last and how much patience will the fans have? Will the Eskimos accomplish the rare feat of worst to first (at least tied), back to worst? On paper, the club has the least experienced of the four starting quarterbacks in the West. All three of Travis Lulay, Darian Durant and even Drew Tate, have been given the reigns as the starter at some point or another. The common theme among them, all came in as young understudies and were given the opportunity to grow. Through all the ups and downs, Wally Buono showed Lulay all sorts of confidence and in two short years has a Grey Cup championship to show for it. That is not to say that Steven Jyles will win the Grey Cup by 2013, but perhaps a little patience is in order. Let's see what the season brings before casting judgment on this transaction.