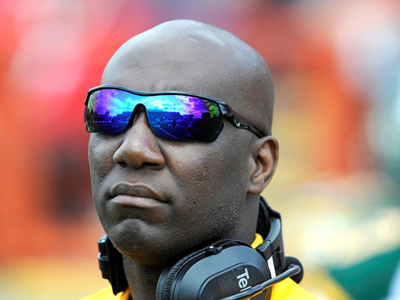 Edmonton - Sep. 12, 2012 - If Head Coach Kavis Reed is still trying to play the part of the steady captain aboard a sinking ship, he will have to be better when it comes to the quotes. The fact that he claims that they "owe" it to the franchise to start QB Kerry Joseph in Hamilton this weekend is a statement that cries out "I just don't know what to do!"

Amidst a sudden two game losing streak that has vaulted them into the cellar of the West Division, the second year coach must figure out a way to snap the offence out of its doldrums. But if one looks closer at this picture, there are many issues at play than just your typical quarterback controversy. Most notably:

• A convoluted backfield: Boyd, Charles, Messam. It's like an Abbott and Costello routine. Or is it more like the three stooges? Throw in Joseph and Jyles and it is a backfield that hasn't seen this type of mess since the days of David Archer and Troy Mills. Remember those days?
• Then there is the issue of a suddenly struggling defence. Yes, one can make reference to an overworked unit that is on the field way too long. But more alarming is a unit that is simply not making the plays it made earlier in the season. Reed himself noted the poor execution, the vast array of big plays being surrendered and the myriad of missed tackles. Clearly this is a defence lacking in confidence, leadership and one Rich Stubler.
• What about the sudden failures of Grant Shaw? Arguably the kicker was the best part of the Ricky Ray trade. Now suddenly Derek Schiavone doesn't look like a bad option.
• How about the inconsistent play of the respective lines? Yes, let's blame injuries because simply stated that is ALWAYS the easiest thing to do.

Now it all shouldn't seem like doom and gloom with the Green and Gold. The reality is that the team sports a number of very promising young players including linebacker JC Sherritt, who is putting together an outstanding second season, and defensive back Joe Burnett, who has had his ups and downs as a first year player. What a surprise? A rookie going through the ups and downs of an initial professional season.

The blame game at this stage needs to fall on two individuals: Reed and GM Eric Tillman. With all due respect to Paul LaPolice, when everything starts to unravel, one should always look up top.

On August 27th, this team was 5-3 and was quite possibly one Steven Jyles fumble away from a 6-2 record. The formula was simple: play hard-nosed defence, smart special teams and mistake free on offence. The formula was simple and was working. Then all of a sudden the team felt like a change at running back and added the enigmatic Cory Body. How many times have we seen this movie? The Esks add someone else's castaway. In truth, yours truly will admit to liking the idea of Boyd in Green and Gold. However, it is becoming more and more apparent as to why the Argos let him go. Then the team inexplicably added running back Jerome Messam. The message to Mr. Hugh Charles is loud and clear, "thanks for getting us through the initial stretch, but now you're no longer needed." Of course, the statement wasn't quite as curt. But the message seems clear nonetheless. An embarrassment of riches is just that, an embarrassment. One honestly cannot fault Charles for wanting out. After all, he only earned his job the right way, via training camp and a fairly solid first part of the season.

Then enter the QB fiasco. The old adage states that one shouldn't lose their job due to injury. The case could not hold more true than for Jyles. Has he lost his job because of one solid appearance in relief for Joseph? Has the team lost confidence in him? Why? Please spell it out. Now in effect, Reed has no choice but to continue with Joseph as otherwise he looks quite the fool. And there in lies the tragedy. The higher ups have messed with a decently successful formula and now we see the disastrous results. What's the old saying, "if it ain't broke.."

One final point of mention. Prior to the 2011 season, was the team not in rebuilding mode? Why should a surprise second place finish change that? The reality is this team is simply not good enough, not deep enough and not smart enough to be a contender. They were on the right track. And I for one supported Tillman and Reed. Now, no one's really sure. One has to admire Reed's passion, but is he in over his head? He and Tillman have attempted to engender a culture of accountability on this team. Perhaps it's time to look in the mirror. Perhaps it is time for a reality check.