| | |
| --- | --- |
| | |
CFL - Esks tame TiCats - so what?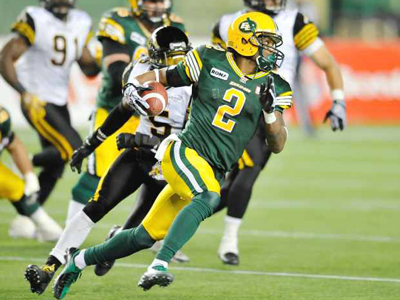 Edmonton - Oct. 9, 2012 - Eskimos Head Coach Kavis Reed may have saved more than his pride with his team's 35-20 victory Friday evening over the Hamilton Tiger Cats. Reed's unceremonious 'demotion' of Offensive Coordinator Marcus Crandell to quarterbacks coach epitomized the anarchy that has reigned supreme in the Esks' locker room in recent weeks.

Reed ingeniously followed suit by naming the veteran Kerry Joseph as the full-time starter for the remainder of the season as well as giving running back Hugh Charles his well-deserved job back.

There is no doubting that the offence did seem more in sync Friday evening incorporating more movement and play action than seen recently. What was indeed welcome was the monster game enjoyed by forgotten receiver Fred Stamps, who finished with 9 catches for a season high 204 yards and a touchdown. Joseph also marked a season high in passing yards by an Esks QB this season with 359 as well as three touchdowns.

Now let's not get crazy here. Joseph did toss two interceptions, the running game still is suspect and the offence did commit a lot of mistakes. What continues to also be a grave concern is the lack of discipline continually showed with the high number of penalties, and costly at that, the team gives out like turkey on Thanksgiving Day. What was also a welcome sight was the return of the ball-hawking defence that recorded three interceptions and two sacks. Overall, the defence did show the same type of aggressive attitude it did in the early going this season.

Again, word of caution fans: this was against a rather fragile Hamilton Tiger Cats group. The win has temporarily put the Esks back into the crossover playoff position. A victory next week at home over Saskatchewan could once again make the West playoff race interesting from a Green and Gold perspective.

The interesting question is where does the team go from here? And who exactly is auditioning for a job?

With the playoffs still a possibility it seems strange to ask the question. But, really do we care if this team crosses over to make the playoffs? Big picture is where do we go from here? Giving Reed the benefit of the doubt as a second year head coach, does the club risk bringing him back in 2013? What of Tillman? Has the GM done enough to come back as well? Those are many very difficult questions indeed.

The most troublesome aspect of this season is the game of charades that the duo has played. When Oilers GM Steve Tambellini was faced with the obvious three years ago, he came out publicly asking fans to be patient as the team underwent a complete and massive rebuild. Fans embraced the challenge. There is no doubt that Eskimo fans are just as loyal and can be as patient. The key, however, is don't lie to them. Why were we spoon fed this idea that Steven Jyles was the future? Why did Tillman and Reed not simply admit that the team is in a transition period (call it rebuilding if you will) and plead for patience? I for one would have more respect for them if that was the case.

Whatever happened with Ricky Ray, happened. It's time to move on. So once again we ask the question: what is the plan?

Being in charge of a community-owned team steeped in tradition and pride, as represented by the passion of its fans, Reed and Tillman owe it to the public to be upfront and honest about their long-term vision. Their jobs should rest on that. If no vision is in place, which could be the case, please step aside and allow professionals to take their spots.


8,398 Stories & Growing Daily...
To date OurHometown.ca has posted a total of 8,398 stories! News, sports, hockey, lifestyle, opinion and more!

Be sure to check out our Contributors and Columnists archives!
Click on Photo or Story Title for more info
OurHometown.ca News Database Last Updated:
Dec. 31, 2021 @ 8:03 AM EST