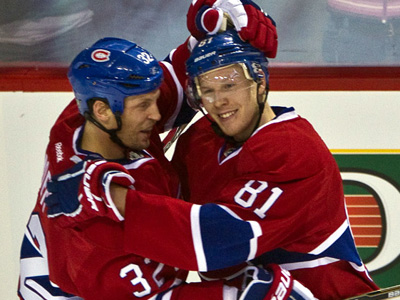 Montreal - January 5, 2012 - Mitch Melnick provides his Good, Bad and Ugly analysis of last night's game between the Montreal Canadiens and the Winnipegs Jets. Montreal won the game 7-3.

The stat sheet, as usual, only tells part of the tale. Lars Eller was the first Hab since Jan Bulis to score four goals in one game. First since Alex Tanguay to register five points. First Montreal forward to score a hat trick since Mike Cammalleri on Centennial night 2009 versus Boston. First since, unofficially, Cammalleri in 2010 to score on a penalty shot (obviously saving that move he made on Chris Mason for a shootout. Eller did know it was Mason in goal by then, didn't he?). Finished the night +4. But I think the game turned when Eller scored his second of the night at the 2:41 mark of the third period. That moment actually began deep in the Canadiens zone with a face off to the left of Carey Price after Josh Gorges had iced the puck (after the Canadiens had just killed off a penalty to maintain their slim one goal lead).

Eller initially lost the draw but the play was whistled dead. He didn't lose the do-over and the Habs took the puck all the way to the Winnipeg net with Eller finishing off a brilliant play with his linemates to give the Habs some much needed breathing room and the first of three goals in a span of 50 seconds to bust the game wide open. Eller's performance was magical on several fronts. It gave his team a much needed victory in their first game on home ice following a dreadful road trip to finish up 2011. A trip that featured Eller as a healthy scratch in Winnipeg.

It gave long suffering Bell Centre fans something to remember during an otherwise totally (so far) forgettable season. It was a moment to cherish and even milk a little, as Eller took in the loud, long post game ovation after being named the game's fist star. A lasting image. And, lastly, Eller provided some rare smiles all along the players bench after his penalty shot goal. Those grins have been a long time coming. And I suspect the man who traded for him, who must be feeling awfully lonely these days, even managed to crack a smile.

•Andrei Kostitsyn & Travis Moen. Any other 3rd line in the NHL combine for a 10 point night this season? No single Montreal player figures to benefit from their coaching change more than Kostitsyn.

•Erik Cole. A fiend on the puck all night. I actually thought he was the best player on the ice. Evidently his coach agreed playing him more than 27:00. I'll say it again - there were numerous reasons why Jacques Martin had to go. But at the top of the list was Martin's inexplicable treatment of a popular stanley cup winning veteran who had just signed on as a free agent. •Mike Cammalleri. Two feet in front of Ondrej Pavelec 15:00 into the first period and Cammalleri has a shot blocked by a defenseman. The puck bounces right back to him and he fans. Early in the third he throws a backhand pass to the net and it deflects in. Go figure. It's starting to turn. Three goals in his last four games.

•Josh Gorges. Celebrates a hard earned new contract by scoring the much needed first goal of the night by the Habs. •Tomas Kaberle. First goal as a Hab. First goal since last March against Montreal. Nice shot from the left side but it was tremendous work by Moen in the neutral zone that made the play.

•Randy Cunneyworth. Notice a difference yet? Other than the meltdown in Winnipeg the Canadiens' effort has been there. What I really like about Cunneyworth as a coach - without the benefit of attending a practice - is evident to anybody who's paying attention. A more aggressive approach to pursuing the puck, often having two players surround the puck carrier (something that at least one former Montreal assistant coach kept preaching only to have it fall on a pair of rather large but seemingly deaf ears); a willingness to use his fourth line more than once or twice a period which hilights his overall intelligent approach to player usage. Martin was killing Thomas Plekanec, often using him close to 25:00 a night. Plekanec is down to a more reasonable 16 minutes. Cole, the big strong winger the Habs have waited years for, gets rewarded with well over 20:00. He is Montreal's best player, he deserves more ice time than anybody else. Thirty six year old Hal Gill has seen his minutes drop to just over 12 or so. Veterans Kaberle & Chris Campoli, neither very strong in their own end, played about 13:30 while Alexei Emelin (+3 and still waiting for the official scorer to give him an assist on Eller's first goal) played over 18:00. No way Martin was going to cut into the ice time of his veterans.

•Larry Carriere. Loyola's own was behind the bench at the Bell Centre for the first time. And gave his first RDS in-period interview with Marc Denis with a definite twinkle in his eye.

•Brian Gionta. The captain is ready to return Saturday against a defensively weakened Tampa Bay Lightning team that has to play the night before against the resurgent Washington Capitals. Louis Leblanc returns to Hamilton knowing he can play in the NHL. Now he has to dominate at the AHL level.

•Geoff Molson. Habs' owner now on twitter @GMolsonCHC joining AOL founder Ted Leonsis of the Capitals (21, 513 followers as I write this) and Terry Pegula of the Sabres (88 followers). Since opening up his twitter account shortly after 5:30 Wednesday afternoon, Molson has been tabbed by 8,284, oops, make that 8,285 followers. Now, about that planned boycott on Saturday...

THE BAD
•Not much really. The power play was 0 - 3 but looked good late in the first period. And all three goals scored by Winnipeg were the result of forwards left alone in front of Carey Price.

THE UGLY
•James Duthie, on a special Junior Hockey Championship edition of The TSN Quiz, pointed out that Wednesday marked the 25th anniversary of "the punch up in Piestany" when Canada and the Soviets were thrown out of the World Hockey Championship following one of the ugliest brawls in hockey history. Duthie, warped genius that he is, is holding out hope that our Juniors can still win a gold medal if they can beat Finland in the bronze medal game then wait for Russia and Sweden to stage a similar brawl Thursday in Calgary.