The idiocy of the trade Subban brigade embarrasses the Montreal market more than Gauthier does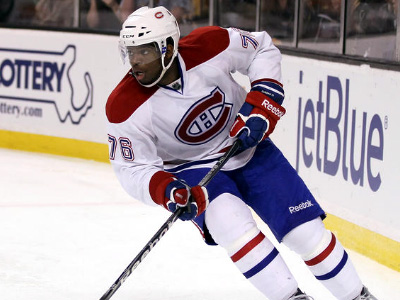 Montreal - January 21, 2012 - I'd rather listen to Etta James.

THE GOOD
- Max Pacioretty. Got right into it after Erik Cole was sent flying.

- Erik Cole. Best player on ice for 40 minutes. Seemed to get really frustrated by referees Kevin Pollock & Francois St. Laurent. Took two bad penalties in 3rd and was stripped of puck by Kris Letang deep in Pittsburgh zone which eventually led to an Evgeny Malkin slapper that tied game late in the third.

- Andrei Kostitsyn. One of his better games of the season. Scored on the power play where he should be getting more ice time.

- Tomas Kaberle. Two assists, including the one to set up the Kostitsyn goal. Played 18:00 instead of 8. Will somebody please get him a real hockey stick?

- David Desharnais. Ho hum. Usual heady performance and only Montreal centerman to win the majority of his draws (60%).

- Only 35 games left to play.

THE BAD
- Thomas Plekanec. Seems his only legit scoring chances of late come when he's killing a penalty. Not that long ago (November) he was considered one of best two way centers in NHL. No clue what's happened. Must have been Mike Cammalleri's fault.

- Rene Bourque. Did he play? ("Cammalleri is a one trick pony. If he doesn't score what else does he do for you? Bourque gives you another element or two") Bourque had 0 hits and 0 shots on goal.

- Randy Cunneyworth. Had Plekanec & Travis Moen out for a good chunk of the overtime in an effort, I suppose, to counter Evgeni Malkin & James Neal. Habs are 10 points out of a playoff spot, having already blown a two goal lead and he's worried about not losing in overtime so he can take his chances in the shootout? This is precisely the attitude Cammalleri was trying to articulate. Then, in the shootout he plays another hunch and goes with Scott Gomez. Is it asking too much for the Habs to practice this skills competition a little more often and/or use their best offensive players instead of playing a game of blindfolded darts?

- Another 3rd period lead flushed down the playoff toilet. How is it that the Habs have struggled so mightily in the third period all season, especially against teams that have played the night before? They're either too fat or too weak. Maybe both.

THE UGLY
- Another PK Subban brain fart. Blindly giving the puck away while the Habs enjoyed a man advantage and an opportunity to take a 4-1 lead. What's worse was his reaction. First on the ice, waving his left arm as if to say to Scott Gomez "Where did you go, Gomer?!" and then on the bench trying to sell his version of "it wasn't my fault" to assistant coach Randy Ladouceur who had to tell Subban to zip it.

- All of this drama giving more ammunition to those who believe PK Subban is too self centered to develop into a top flight defenseman. The idiocy of the "let's trade PK (and Price) brigade embarrasses this market more than Pierre Gauthier does. Subban is in his second NHL season. What's Drew Doughty doing in LA? Ok, I'll tell you. In 43 games Doughty is 3-17-20 pts +1. Subban, in 46 games, is 3-16-19 pts -1. Calder Trophy winner Tyler Myers has 8 points in 27 games this season, has been a healthy scratch, and is -8. In his 2nd NHL season Jack Johnson had 11 points and was -18. Second year defenseman Cam Fowler has played 45 games this season. He's 3-15-18 pts -13. And to save us both a lot of time I'll just jump ahead to Zdeno Chara who, in his second full season, played 65 games and was 2-9-11 pts -27. Chara had a similar third full season before his imbecile of a GM lost patience and dealt him to Ottawa. What's that old saying about history?

- Those who do not learn from history are doomed to repeat it.


8,398 Stories & Growing Daily...
To date OurHometown.ca has posted a total of 8,398 stories! News, sports, hockey, lifestyle, opinion and more!

Be sure to check out our Contributors and Columnists archives!
Click on Photo or Story Title for more info
OurHometown.ca News Database Last Updated:
Dec. 31, 2021 @ 8:03 AM EST