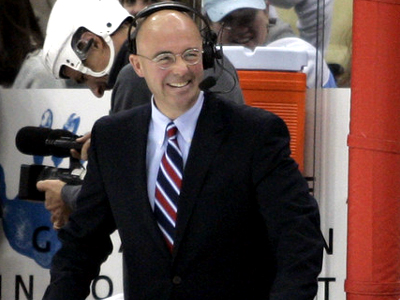 Montreal - March 29, 2012 - This story was originally published on February 1, 2012, however in light of today's firing of Pierre Gauthier, it is appropriate to run it again.

This one is overdue. I'm not going to step aside over some supposed professional code. I sincerely believe that Pierre McGuire would do a terrific job as an NHL General Manager. And I think it's People don't realize Pierre was a hockey person for 10-12 years before he became a media person. He has tremendous work ethic and ambition. He's networked with so many people around the NHL for years. If you look at some people who have done good jobs, some of them, all they needed was an opportunity.

-Scotty Bowman on Pierre McGuire ("Melnick In The Afternoon TSN 990 Dec 23, 2011)

This one is overdue. I'm not going to step aside over some supposed professional code. I sincerely believe that Pierre McGuire would do a terrific job as an NHL General Manager. And I think it's about bloody time somebody in this town talked to him about the GM post of the Montreal Canadiens.

I believe that Pierre is the best hockey analyst in the business. Almost too good, it turns out, to return to work for an NHL franchise. He revolutionized the way the game is now described on television and more importantly, what hockey fans expect out of a telecast. The energy and passion he possesses is obvious. His knowledge of virtually any player anywhere on the planet, let alone an NHL ice surface, reveals his strong roots as a scout. That knowledge has never wavered from the moment I first met him, sitting in the old balcony at the Montreal Forum during a Canadiens playoff match up that I have since forgotten everything about except for the guy I was sitting next to. Regular members of the hockey beat would moan and groan about being dislodged from their regular press box seats at playoff time when numbers of the working media would swell beyond capacity. I eagerly would give up my seat above center ice and actually request a move to the balcony because I knew that's where a lot of scouts would find their assigned seats. I figured I might learn something. And that's how I discovered Pierre McGuire.

I spent two games in the company of Pierre. I learned more about hockey players in 120 minutes than I had in the previous 12 years. I also realized that after jumping from a "heritage" radio station to a new venture as a drive home host (CIQC Radio) I could use some help during the hockey season. Pierre agreed to come on the air with me, initially on a very occasional basis, while he was an assistant coach with the Hartford Whalers. He did join me the day he became the head coach of the Whalers but we didn't correspond a whole lot again until he lost that job and eventually went to work for the Ottawa Senators as a pro scout and an assistant coach. I remember him showing me around the offices of the new rink in Ottawa and introducing me to a man he later described as his best friend. The guy was Ottawa's assistant GM. His name was Ray Shero.

It got ugly in Ottawa (Pierre Gauthier was around) and Pierre found himself in the hockey hotbed of Baton Rouge, Louisiana as the head coach of the King Fish of the East Coast Hockey League (I vividly remember one off air phone call from Pierre during this time when he told me that Mike Keenan was looking for a centerman - Keenan was coach of the parent St. Louis Blues - and Pierre asked me if Brian Savage was playing the position much with the Canadiens. I said that while I knew that Savage had been drafted as a centermen, he'd been nothing but a winger in Montreal. Didn't handle the puck well enough for a center. Pierre mentioned that Keenan was having issues with Shayne Corson. A short time later the Blues sent Corson and Murray Baron to the Canadiens in exchange for Pierre Turgeon and Rory Fitzpatrick). Pierre started to appear on the air in Montreal on a more regular basis, especially through the NHL playoffs. I explained that although we had no budget I was certain that Ted Blackman at that old heritage station was always listening and would realize Pierre's potential and try to hire him as the radio analyst on Canadiens games. Sure enough, Pierre was back in the NHL, kind of, for the 1997-98 season. By then I was also hosting a television show called "The Habs This Week" and, naturally, used Pierre as our in depth analyst. His star was rising in a hurry. Most of you know that he eventually moved to Toronto to work for TSN full time before coming home again for a few years. But by then, Pierre was also lead analyst at NBC and being pressured to work for them on a full time basis. This past summer he moved to the New York area armed with the assignment to help grow the sport he loves. Only a deep and respectful love of Montreal and especially the Canadiens could bring him back.

As Scotty Bowman told me just before Christmas Pierre was a "hockey guy" long before he hit radio and television. Scotty met Pierre at St. Lawrence University in New York in the 1980's. He eventually brought Pierre to Pittsburgh where McGuire worked as a scout and assistant coach helping the Penguins win two Stanley Cups. He was considered an up and comer, especially after working so closely with the legendary Bowman (living closely as well. They were roommates for a year in Pittsburgh). When the Hartford Whalers hired Pierre as an assistant coach (he also served as assistant GM in Hartford) he was definitely on the fast track. When Pierre replaced Paul Holmgren as coach in November of 1993 he was just 32 years old. To his critics, McGuire "failed" as an NHL head coach. There were certainly well documented issues in Hartford. It didn't work out. You can say he "failed". Most would say that he simply wasn't ready to coach in the NHL at age 32. Who is? But here's something to think about - why was Pierre McGuire so highly thought of that an NHL organization would name him assistant GM and then head coach at the age of 32?

I think Pierre Mcguire should be running an NHL hockey management team. He interviewed for the GM post in Calgary that eventually went to Craig Button. Pierre told the Flames they needed to invest a lot of money to rebuild their infrastructure. The Flames, in the bad old days of the low Canadian dollar, thought otherwise. They're still looking for that second Stanley Cup. Pierre almost became the GM of the Toronto Maple Leafs. Yep, I believe it's a matter of record by now. The Leafs wanted to bring Scotty Bowman in as head of hockey operations. Scotty would have named Pierre GM. But the Leafs refused to move John Ferguson Jr. out of the picture. Bowman said no. Ferguson, finally fired by Toronto a year later, now scouts for San Jose. Pierre came very close to getting the Wild GM job in the wonderful hockey market of Minnesota but lost out to Chuck Fletcher. Ironically, if Pierre had agreed to become Ray Shero's assistant in Pittsburgh when his old friend came calling it might have eventually landed him that Minnesota job. The Stars hired Fletcher after he worked under Shero in Pittsburgh.

Pierre McGuire has his detractors. For them, it's not about hockey knowledge. It can't possibly be. It's personal. Or it's based on Pierre's personality. As I said to Pierre when he began in radio, "Be yourself. Say what you believe and say it forcefully. Strong opinions are the lifeblood of talk radio. But as you rise in popularity so will the number of your critics. Stand your ground". Once in a while Pierre can get prickly. He's entitled. He works long hours and literally doesn't stop from the moment he wakes up (with 7 AM appearances on Toronto radio, plus Ottawa and elsewhere before he finally hits the air with us at 5:05) until he shuts it down after the final whistle from the west coast. There are some who believe that Pierre carries a bit of a chip on his shoulder. I don't believe Pierre is envious of anybody - he has a highly successful high profile job that pays him handsomely and even more importantly a terrific young family - so he's in a good spot. But I have never met anybody in any pro sport who isn't ultra competitive. And if Pierre does have a chip it's because he sees at least a couple of guys in the NHL, especially the one in his beloved hometown of Montreal, who simply do not know players the way he does. There are some Canadiens fans who believe McGuire hates their team. Because he doesn't work for them. It's actually the complete opposite. I don't know if he'll appreciate me telling this story but here's an example of how much he cares...

June 30, 2009 - Having already delivered a well deserved verbal beat down on the radio earlier in the day after the Canadiens announced they had acquired Scott Gomez from the Rangers ("An elite player", said Bob Gainey in the press release. "Did they see him play this season?" asked Pierre. We were both shocked that the Habs had taken the Gomez contract and threw in first round pick Ryan McDonagh in the deal), I was making my way home trying to figure out what Gainey and his head of pro scouting Pierre Gauthier had just done when my cellphone rang. It was Pierre. "Listen, this is bad. Really bad. I'm concerned. They're lost. They have no clue. Bob Gainey is not being well served here. Somebody had to step up and say we can't do this. If you speak to him tell him I'm willing to help. I'm serious. He needs help, badly". I will always have an enormous amount of respect for Bob Gainey. And while I was tempted I never did make that call. I frankly didn't think it was my place to suggest to the then current GM of the Canadiens that he ought to spend less time listening to some of the people he hired ("The man I trust the most").

Almost three years later Scott Gomez, the NHL rookie of the year and two time Stanley Cup winner has been forgotten. Replaced by an actual joke. The Rangers, using the money freed up by moving Gomez to the Habs, signed Marian Gaborik while McDonagh has already developed into a top end NHL defenseman who averages over 25:00 a game. The Rangers are atop the NHL's Eastern Conference. The Canadiens are trying to stay out of the basement.

Barring the biggest last minute turnaround since Harry Truman beat Tom Dewey to win the U.S. Presidency in 1948 the Montreal Canadiens are going to miss the playoffs under a GM who has already fired two coaches, re-signed an injured defenseman who can barely skate, signed two other veteran defensemen who are softer than marshmallows (one armed with a contract than can be termed Gomez-Lite), only realized halfway through the season that most goals scored these days are from "dirty areas", calls everybody "Mr." and generally acts like he's from a lost galaxy. And Pierre McGuire has to watch this crap after warning anybody who would listen that the Habs were headed down this road? It didn't have to be this way.

I'm not saying Pierre McGuire is the only qualified candidate to become the next GM of the Canadiens. But who else is, like Pierre, perfectly bilingual, has strong ties to the city, married to a French Quebecer, understands this market and knows what it takes to win a championship?

Bring him home.

Do it now.

It's about bloody time somebody in this town talked to him about the GM post of the Montreal Canadiens.