The Good, Bad and Ugly - Habs opener wasn't half bad, for an exhibition game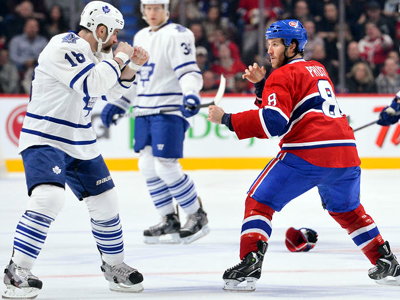 Montreal - January 20, 2013 - Well that wasn't half bad. For an exhibition game. Good to be in the Bell Centre again. But I still miss the Forum.

THE GOOD
•The pre-game torch ceremony. Simple, heartwarming and emotional, especially when Jean Beliveau was handed the torch by Serge Savard.

•The Habs new fourth line featuring Brandon Prust, Colby Armstrong and Ryan White. Best trio of the game. Going to be fun watching these guys. Prust and White combined to win 7 of 9 face offs.

•Brandon Prust. Couldn't ask for a better Montreal debut. Beating Mike Brown in a fight and putting the puck in the net. Before the goal was called off.

•Brian Gionta. The litte captain looked slightly overwhelmed after receiving the torch from Jean Beliveau. But following an injury riddled 2011-2012 season he was back doing what he does best - buzzing the net (at one point trying to direct the puck past Ben Scrivens with his head) - and making life miserable for opposing defenseman. Led all Montreal forwards with four hits. Mitch Gallo wins The Hot Tub Pool for correctly naming Gionta as player who would score Habs first goal of season.

•Carey Price. Looked confused on first goal but kept Habs in game with several key saves.

•Andrei Markov. Logged team high 24:08. Looked a lot better than he did at the tail end of last season but that's not saying much. First real test will be a back to back.

•Alexei Emelin. Picking up where he left off last season the defenseman led Habs with six hits including a couple of bone crunchers on Mikail Grabovski & Nazem Kadri.

•Alex Galchenyuk. Skills are obvious. Quick release. Heavy shot. Too unselfish with puck on at least two occasions but that's to be expected. Habs had nearly 10:00 of PP time but Galchenyuk was on ice with man advantage for just 1:51.

•Reception for Michel Therrien. Even those who still aren't sold on Therrien have to feel good for the guy after getting a long, loud ovation during pre-game introductions.

THE BAD
•Top line of David Desharnais - Erik Cole - Max Pacioretty. Out of sync all night. Everybody seemed off by half a step/half a second. Cole & Desharnais both took bad, lazy penalties.

•Ryan White. Right idea to get in Ben Scriven's kitchen right off the bat but poor execution. Bad penalty put Habs on their heels.

•Habs inability to beat Scrivens. He fought the puck from the get-go.

•Josh Gorges. It's been awhile since we've seen Habs most dependable defender struggle as he did. Have to go back to his pre-surgery days.

•Habs PK unit. Among the best in NHL last three years, took a hit as Leafs scored both of their goals on PP. Not crazy about pairing of Gorges & Francis Bouillon on top PK unit. Both were on the ice for the Leafs goals while Bouillon lost a puck battle to Phil Kessel which led to the goal by Tyler Bozak. It'll be interesting to see if Habs PK efficiency takes a dip following the loss of two key elements the last three seasons - Hal Gill and (don't snicker) Scott Gomez. And yes, the PK could use a jolt of P.K.

•Tomas Plekanec. Very important for Plekanec to improve his work on face offs. He won just 48% of his draws last season. Was having a great night in that department (13-6) but lost the vital final face off of the night deep in the Toronto zone to Bozak.

•Tomas Kaberle. In better shape? Looked the same to me.

THE UGLY
•Jeremy Jacobs. While everywhere around the league teams and players celebrated the return of NHL Jacobs felt the need to take more shots at the NHLPA and Donald Fehr. The Bruins must be so proud to be owned by a vindictive, self-absorbed a**hole.


8,399 Stories & Growing Daily...
To date OurHometown.ca has posted a total of 8,399 stories! News, sports, hockey, lifestyle, opinion and more!

Be sure to check out our Contributors and Columnists archives!
Click on Photo or Story Title for more info
OurHometown.ca News Database Last Updated:
Dec. 31, 2021 @ 8:03 AM EST