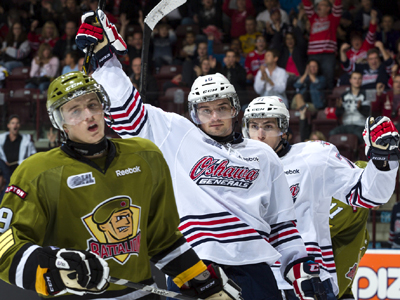 Whitby - October 2, 2012 - Sunday night's contest between the visiting Brampton Battalion and the Oshawa Generals left many of the Oshawa faithful feeling confident that a successful 2012-13 Ontario Hockey League season is beginning to unfold. With this convincing win over the Battalion, the Generals' season record now stands at 4-1-0-0. Three wins in three nights; you can't ask for more.

Generals' second year netminder, Daniel Altshuller, has started all five games to begin the season. His butterfly style of play has served him and his team well thus far.

Fans in attendance on Sunday witnessed the Generals come out flying in dominating fashion in the first period for the first 12 minutes similar to their game on Friday night versus the Peterborough Petes. The Gennies would then fall into a lull over the final eight minutes to close out the opening frame with a 3-1 lead.

The second period however was a completely different story for your hometown Generals. Brampton was given life in the second period, due largely in part to an undisciplined Oshawa squad that squandered their lead as the Battalion registered two power play goals, thanks directly to five different Oshawa penalties.

When the Generals are firing on all cylinders, their opponents cannot touch them, as was evident in the third period. Oshawa started the third with a new sense of vigor and determination, scoring 5 goals over the first 14 minutes. Oshawa rookie sensation Tyler Biggs led the way with two goals in the final 20 minutes. Biggs would close out the contest with a three-point night and finished a plus-four.

The announced three stars on this night were all Generals. Lucas Lessio (3rd star, 2 goals), Tyler Biggs (2nd star, 3 points) and captain Boone Jenner (1st star, 3 points) continue to be offensive juggernauts. Jenner in particular, currently leads the entire Ontario Hockey League in scoring with 12 points (7 goals, 5 assists) in just five games.

For the complete boxscore, please click HERE

The Generals next face their East Division rivals, the Kingston Frontenacs on Friday evening in Oshawa at the General Motors Centre with a 7:35 p.m. start.


View from the Whitby cheap seats
Fatigue a non-factor
Who would have thunk it? After starting the first five games in nets for the Generals, Carolina Hurricanes' draft choice Daniel Altshuller could not have been blamed if he produced a less-than-stellar performance on Sunday evening. Altshuller continues to shine for the Generals when called upon. The 6'4?, 201-pound netminder is extremely agile for his size. I am concerned that his butterfly style of play may become a liability however, as he does leave the top corners of his net exposed when down on his knees. Stick with what works I guess.

Hopefully the Gens' defence corps continues to shut down the opposition to minimize the number of scoring chances.





Generals' defenseman, Josh Brown stands 6'5?, 211-pounds. Brown saw limited ice time last season with Oshawa. The coaching staff will expect more of him this season as he continues to develop his hockey playing skills (Ian Goodall/Goodall Media Inc.)





The buck stops with Brown
Josh Brown is an intimidating defender. Oshawa fans saw Brown play in limited action in 46 games throughout the 2011-12 OHL season. Brown did not register a single point last season, but did manage to record seven fights; he truly is a defensive defenceman. Never one to back down from a duel, Brown has begun this 2012-13 OHL season paired with Chris Carlisle on the Generals' third defenceman pairing. Expect to see Brown become more entrenched on the Oshawa blue line this season as he continues to develop his hockey skills. There continues to be a positive shift in his game this season. Over the past five games, Brown's confidence has increased and his initial pass out of the Generals' defensive zone for the most part, is tape-to-tape.

Brown has to continue playing a simple game. At the 13:40 minute mark of the second period, Brown tipped and redirected a slap shot from a Battalion defender in the Generals' zone that teammate Daniel Altshuller had to stop point-blank. Josh Brown needs to clear the laneway and allow Altshuller to clearly see every shot.

Valentine's Day
For a moment in the third period on Sunday night, I thought I was watching former Generals' defenceman, Scott Valentine. He, then of the number 4 jersey, perfected the art of the hip check. At the 6:45 minute mark, overage left winger, Scott Sabourin, delivered a beautiful hip check in front of the Gens bench that got a momentous rise out of the crowd. For the record, overage defenceman Matt Petgrave who wears this year's number 4 jersey, attempted his own hip check on an unidentified Battalion opponent in front of the Gens' bench. A swing and a miss for Petgrave, as he almost ended up in his own bench.

First time OHL goal scorer
Congratulations to Barrie native, Oshawa Generals' #14, right winger, Bradley Latour on scoring his first OHL goal. Latour snapped a lovely shot above the glove hand of rookie Brampton Batallion backup netminder, Jake Smith. Look for more of the same from Latour this season as he has played consistently alongside centreman Scott Laughton and Sabourin on the Generals' second line.





Bradley Latour #14 of the Oshawa Generals celebrates his first career OHL goal (Ian Goodall/Goodall Media Inc.)



Rookie defenceman Will Petschenig recorded his first OHL career assist in only his second game with the Oshawa Generals. Petschenig had a strong training camp with the Gennies. The Manotick native played last season with the Cornwall Colts of the Central Canada Hockey League (CCHL). Keep your eye on this kid, with a 6'3?, 198-pound frame, he has much to offer going forward.



Closing thought

Sitting in awe of the firepower that the Oshawa Generals' team possesses this season, I cannot help but comment on how comfortable rookies Tyler Biggs and Michael Dal Colle (MDC) appear playing alongside Gens' captain Boone Jenner. The top line appears as if they have been playing together for years. Biggs' second goal of the game was pretty to watch–MDC winning the battle along the sideboards, crisp pass to Biggs in the slot, the puck then wristed behind Battalion netminder Smith for the Generals' sixth goal.

For the love of the game, I remain, Dean Eastman.