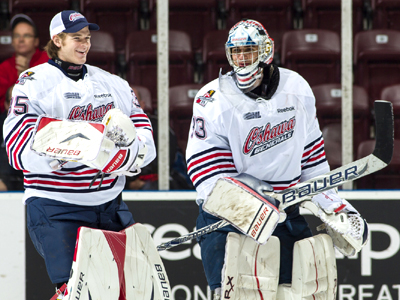 Whitby - October 5, 2012 - In Monday's post-game summary, I commented on Oshawa Generals' starting netminder Daniel Altshuller's use of the "butterfly style" technique. The butterfly style is generally effective and popular among goaltenders, however this technique can render some vulnerable to scoring attempts by leaving the upper portion of the net unprotected.

For a former hockey player who has but one experience of playing goaltender for his team (if Novice house league even counts), I will be the first to admit I am not the best individual to comment or critique on the play of Daniel Altshuller so far this season. Altshuller has backstopped the Eastern Conference-leading Oshawa Generals to a 4-1-0-0 record thus far this season.

If you were suffering from chest pains, would you go see an automobile mechanic to get the problem checked out? I can hear you now, replying with a resounding "No!". Likewise, I am going to leave the goaltending analysis to a close personal friend of mine, who is also a goaltending expert, Jerry Shields. Shields is a goaltending analyst that has developed unique techniques for evaluating goalies over the last 15 years. His methods involve quantifying specific goaltending attributes that can used to find opportunities for improvement and/or find ways to exploit weakness in opposition goaltending. This innovative approach moves goaltending analysis away from the biased approach associated with the caliber of a goalie's team and finds the true measure of talent.


Starting goaltender Daniel Altshuller

#33 – Daniel Altshuller (Ian Goodall/Goodall Media Inc.)

"In the last 20 years, the Oshawa Generals have seen eight goalies drafted into the NHL. Daniel Altshuller is the latest to join that club and is the highest drafted goalie out of Oshawa during the same time frame. Over that time, only two Generals goalie draftees ever played an NHL game and those two goalies (Chris Beckford-Tseu and Tyrone Garner), only combined for four NHL games. Can Altshuller fare any better in the years to come?

Last season, I had Altshuller ranked 19th in the OHL which would place him in-line with Garner's ranking in 1996. In my analysis, Garner never climbed higher than an 11th placed ranking over his OHL career. If this comparison holds true then the Gens have a solid starting goalie for the next several years that will likely see the minors, but still needs to develop more to take a real run at an NHL career.

There are indications in Altshuller's performance last season that do show potential. Throughout the 2011-12 OHL season, Altshuller never had a 'blown-win'. A blown win is described as a loss that can be attributed to the goalie allowing more goals than what would be considered 'normal'; enough goals to cause the loss, hence, a blown win.

The opposite statistic, the 'Stolen Win', occurs when a goalie stops more shots than what would be considered normal; indicating that he was the reason for the win. In this statistic, Altshuller was attributed with getting a 'Stolen-Win' in 8% of his starts. Of Altshuller's 26 regular season starts, he had 58% quality starts, 19% average starts and 23% weak starts. This indicates that he has a quality start over half of the time and when he does have a weak game, it is never the contributing factor to the team's loss. That's a real source of confidence for the team playing in front of him. When Altshuller was given the nod to play in the Oshawa Generals – Niagara Ice Dogs playoff series last spring, he quickly registered two consecutive 'stolen-wins' and then followed that up with another quality game (in a losing effort). In other words, Altshuller was the only reason the series even went to six games and the series' loss was certainly not his own fault."


Backup netminder Ken Appleby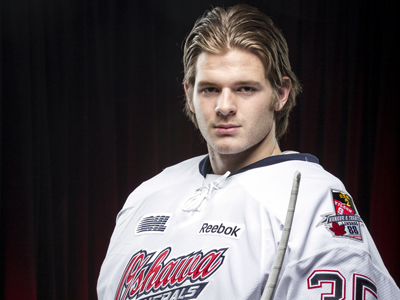 #35 – Ken Appleby (Ian Goodall/Goodall Media Inc.)

"Daniel Altshuller is backed up this season by Ken Appleby. I am very excited to see Appleby given a chance in the 'O'. He comes from the NOJHL in Northern Ontario, playing on a very weak team that only won nine games all season. Appleby saw a LOT of rubber last season and played well enough to get recognition as the league's 2nd All-Star goalie. Often goalies playing on weak teams don't get the attention they deserve. For Appleby to rise above that bias speaks volume for his ability. In my NOJHL rankings I had Ken ranked 2nd place – he often saw 50 shots a game and his save percentage still hung around .900. The only concern with his move to Oshawa is the change of pace where he will see much less rubber and less starts. Can he maintain the momentum he built last season sitting on the bench watching Altshuller?

The Generals are well positioned for the next several years in goal with these two quality netminders. The key will be in Altshuller taking his game to the next level as one of the leading goalies in the OHL while finding time for Appleby to develop into a solid backup.

Altshuller has professional potential. Anchoring the Gens this season and taking them deeper into the playoffs will go a long way to showing that he is the best goalie to come out of the Oshawa organization since Jeff Hackett." "Top shelf where mom keeps the peanut butter"

If the Generals continue to play strong defence first, their chances will skyrocket this season with a quality goaltending tandem in Daniel Altshuller and Ken Appleby. Altshuller has only had to stop an average of 28.4 shots per game in the team's first five contests this year. I am eagerly anticipating the first start in nets for rookie Ken Appleby. He looked good in the Generals' training camp in August.

From what I have seen of Altshuller thus far, I am very confident our hometown Gennies have a keeper that will pay dividends, hopefully in the form of a J. Ross Robertson Cup.

For the love of the game, I remain, Dean Eastman.

For more information on Jerry Shields and his goaltending analysis, check out his website at goalieanalysis.com.