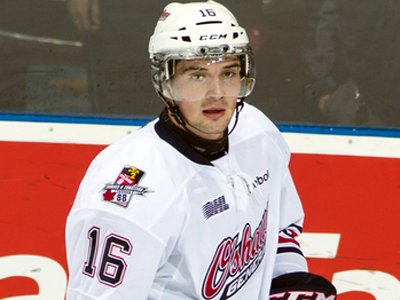 Whitby - October 25, 2012 - Try as they might, the Oshawa Generals just couldn't lose a rare Wednesday night matchup against their OHL East Division rivals, the Ottawa 67s. Needless and untimely penalties kept the game closer than needed. Generals' forward Scott Sabourin backhanded the shootout winner past 67s starting goaltender, Keegan Wilson making the final score 4-3 in favour of Oshawa.

Oshawa power forward Tyler Biggs scored two goals in regulation while linemate and team captain, Boone Jenner added the other regulation marker for the Generals. Ottawa received scoring from forwards Sean Monahan, Remy Giftopoulos and Ryan Van Stralen. Special teams were highlighted during the game as Ottawa scored three power play goals to Oshawa's lone man-advantage marker.

Oshawa goaltender Daniel Altshuller was solid when called upon and made a number of key saves throughout the evening. Altshuller stopped 29 Ottawa shots to record the win. Ottawa's Wilson made 27 saves in a losing attempt for the 67s.

The highlight reel was in effect for Ottawa defenseman Jake Cardwell on the 67s go ahead goal in the third period when he made like former NHL'er Denis Savard and displayed his own version of the 'Spin-arama' as he moved around Oshawa forward Scott Laughton at the Oshawa blue line, backhanded the biscuit to Ottawa teammate Monahan and then over to Van Stralen who potted Ottawa's third goal behind a sprawled Altshuller.

Oshawa has suffered a number of injuries thus far into the 2012-13 OHL season, most recently losing forwards Hunter Smith and Lucas Lessio to upper body injuries. To add to the shortage, the Generals will likely lose forward Scott Laughton to suspension for a hit to the head in which he received a major penalty and game misconduct at 17:26 of the third period. Ottawa was unable to take advantage of the major penalty, sending the game to a shootout.

The announced three stars of the game were Ottawa 67s' defenseman Jake Cardwell (3rd star, 2 assists), Oshawa Generals' forward Tyler Biggs (2nd star, 2 goals) and Ottawa defenseman Cody Ceci (1st star, 2 assists). For the complete OHL boxscore, please view the score sheet HERE

The Oshawa Generals signed 2012 OHL third round draft choice, centreman Owen McDade on Wednesday. McDade suited up for the Generals on Wednesday night, but saw very limited action alongside rookie forward and recent call up, Matt Hore. Oshawa's Will Petschenig and Tyler Hore also saw limited action on the blue line as Generals' head coach D.J. Smith opted to play his veteran defensemen.

The Oshawa Generals now return to Oshawa and will host the visiting Saginaw Spirit on Friday evening at the General Motors Centre. Game time is set for 7:35 p.m. EDT.

For the love of the game, I remain, Dean Eastman.