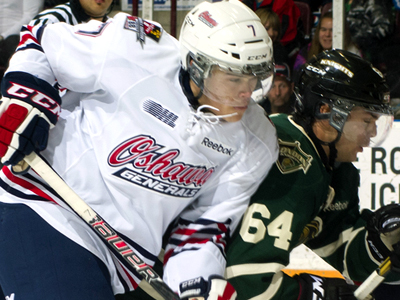 Oshawa - October 27, 2012 - Lucas Lessio gone for three months after undergoing hand surgery earlier this week. Hunter Smith gone for eight weeks as a result of suffering a skate laceration. Scott Laughton suspended ten games for a check to the head on Wednesday night in Ottawa. The remaining Oshawa Generals roster however did manage to muster 42 shots on Saginaw Spirit starting goaltender Jake Paterson but could not mount a third period comeback, losing Friday night's contest 3-2.

Friday's contest was a physical affair as both teams delivered thundering body checks at times throughout the matchup. Surprisingly, Oshawa was the least penalized team of the two for a change on this evening. Oshawa went two-for-six on the power play, while Saginaw went zero-for-two. Oshawa goal scorers were defensemen Matt Petgrave and Colin Suellentrop. Generals' team captain Boone Jenner added two helpers to add to his point total. Scoring for the visiting Saginaw Spirit were forwards Eric Locke and Justin Kea with a two-goal performance.

Spirit goaltender Jake Paterson stood on his head as the Generals continued to press throughout the three periods, but were denied time after time. Paterson held a very hot glove hand all night. Oshawa's starting netminder Daniel Altshuller faced 29 Saginaw shots in the loss. The winning goal by the Spirit's Eric Locke was one that Altshuller would love to have back as he missed stopping a low wrist shot from just inside Oshawa's blue line that eluded Altshuller's glove hand at 9:19 of the first period.

Oshawa Generals' second-year defenseman, Chris Carlisle, had a very strong game on defense for the Gennies. He took advantage of the ice time he was given on Friday night and made the most of it. While the Oshawa coaching staff relied heavily on senior defensemen Matt Petgrave, Geoffrey Schemitsch and Colin Suellentrop to stop the Saginaw attack and create offensive chances of their own from the back end, Carlisle delivered some highlight reel-type body checks, was responsible in the defensive zone and skated strong. "We battled hard, came out a little rough, but the bounces just didn't go our way," admitted Carlisle when asked how he felt his team played against Saginaw.

A modest young man, the Fort Lee, New Jersey native, had the hit of the night as he punished one of the Spirit forwards with a solid body check behind goaltender Altshuller at 7:53 of the second period, sending the Spirit forward on his keester, drawing applause from the 3,639 fans in attendance.

The announced three stars on the night were Saginaw's Justin Kea (3rd star, 2 goals), Oshawa's Scott Sabourin (2nd star) and Spirit goaltender, Jake Paterson (1st star, 40-save performance).
The OHL boxscore can be viewed here. The Generals return to action at home on Sunday afternoon against the Peterborough Petes. Game time at the General Motors Centre is 2:05 p.m. EDT.

For the love of the game, I remain, Dean Eastman.