How impressive is the Detroit Red Wings winning streak?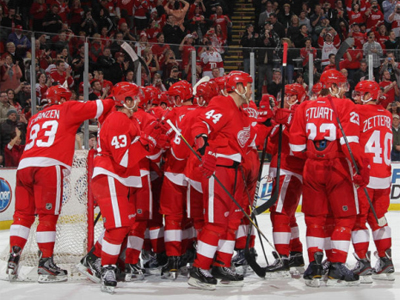 Edmonton - February 15, 2012 - With last night's 3-1 victory over the Dallas Stars, the Detroit Red Wings have set a new NHL standard with 21 consecutive wins on home ice. While the Wings have always been tough to handle at Joe Louis Arena, this achievement is one for the ages. This club currently sports a 24-2-1 home record and haven't lost on home ice since November 3rd. In fact, the Wings lost all three of those games from October 28th - November 3rd so in theory; this team has been beatable at the Joe for all of one week this season and they are currently in week twenty of their schedule. Frankly, those are some pretty gaudy numbers and when you take into consideration the parity in today's NHL and all the other circumstances that work against a club achieving such a mark, it makes it even more remarkable.

Detroit has long been considered the model franchise by other organizations, media and fans alike. However, many expected them to take a bit of a step back this year as many core players were a year older. No one expected them to fall off the face of the earth but with the lineup they had, you could clearly see holes. So what do the Wings do? They become unbeatable on home ice and are once again atop the league standings.

They have been riding the wave of a stellar performance from netminder Jimmy Howard but only have one player, Pavel Datsyuk, in the top 35 in league scoring. While a Detroit player rarely winds up as the league scoring leader, you could always count on at a couple of their players factoring strongly on the race. Instead you now see a team that has committed to one another in hopes of achieving that ultimate goal, to win the Stanley Cup.

They have had various key players slump and/or suffer injury but they have still found a way to not only be good but continue to be dominant. Even with Howard sidelined for the past couple of weeks, the have continued to win with not their backup goalie but their number three guy!!! Also, one must realize that Detroit has one of the worst travel schedules in the NHL and for them to continually come back to Joe Louis Arena and just keep piling up wins, is simply staggering.

Is this the best collection of talent this organization has offered up over the last number years? Not even close and that's what makes this record even more impressive. This is a proud group that has been built on highly talented and character guys like Niklas Lidstrom but to the amazement of many, this club continues to defy logic. At some point, they just have to slow down…don't they?


8,399 Stories & Growing Daily...
To date OurHometown.ca has posted a total of 8,399 stories! News, sports, hockey, lifestyle, opinion and more!

Be sure to check out our Contributors and Columnists archives!
Click on Photo or Story Title for more info
OurHometown.ca News Database Last Updated:
Dec. 31, 2021 @ 8:03 AM EST