Oil Notes: Khabibulin Out and Nugent-Hopkins Improves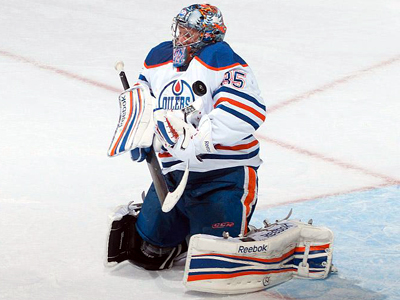 Edmonton - February 21, 2012 - Word around the rink was Oilers netminder Nikolai Khabibulin left Sunday night's game because of an apparent groin injury and that was confirmed on Monday when the club announced the veteran goaltender will be out of action for the next seven to ten days.While it was in no way a certainty that the Russian netminder would be moved at the deadline, his latest injury setback makes it very unlikely that any team comes calling.

Edmonton called up Yann Danis from Oklahoma City to serve as Devan Dubnyk's backup until Khabibulin is ready to return. With only twenty-four games remaining in the season, Dubnyk will carry the workload and hopefully prove that he can be an NHL starter. He has been given similar opportunities in the past but has never been able to string together a number of solid starts. If he intends on being the man moving forward, he needs to step up and in a big way.

As for the status of injured centre Ryan Nugent-Hopkins, not much has changed. He continues to practice with his teammates in a "non-contact" jersey but the Oilers are being extremely cautious. After re-aggravating his shoulder in Toronto on February 6th, the original prognosis was a week to ten days but as I wrote then, logic dictated it would be a minimum of two weeks on the sideline and it has been exactly that. At the absolute earliest, we could see him on Saturday afternoon against the Phoenix Coyotes but that might even be pushing it. While I am sure it is not easy on Nugent-Hopkins to sit out, there is no reason to rush the rookie back into the lineup.

That being said, the youngster was upbeat about his recovery. "It's feeling a lot better. It's definitely making progress," RNH said. "It's hard to tell without any real battles out there. The next couple of days will be a good test."

Be it another couple of more games or five, let the kid come back when he feels a 100% ready and have him finish off the season on a high note. As excited as the Nuge would be to get back playing, it would be safe to assume his teammates are just as anxious to see the Calder Trophy candidate return to action.


8,399 Stories & Growing Daily...
To date OurHometown.ca has posted a total of 8,399 stories! News, sports, hockey, lifestyle, opinion and more!

Be sure to check out our Contributors and Columnists archives!
Click on Photo or Story Title for more info
OurHometown.ca News Database Last Updated:
Dec. 31, 2021 @ 8:03 AM EST