Oil Notes: Barker and Peckham could be moved out of Edmonton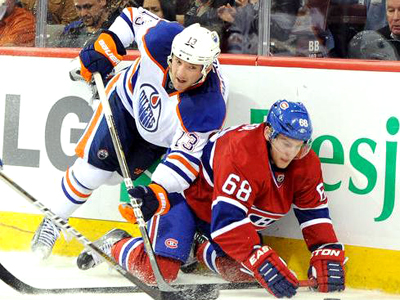 Edmonton - February 23, 2012 - As much as Cam Barker has struggled since returning from an ankle injury, I would be extremely surprised if the Edmonton Oilers don't have teams inquiring about the former third overall selection. When one looks at Barker's stat line this season, nothing stands out and of late, the only one that jumps out is the ugly -8 over his last five games. The majority of fans and media haven't been big fans of the twenty-five year old's overall game but before being injured, he kept his came very simple and was solid. Sure he's not flashy and hasn't produced as much offensively as was hoped but placed in the right situation, he could be a decent fit. Barker does have an upside...though you wouldn't know it with his play of late. Would the Hawks have any interest in re-acquiring the blueliner? He has never come close to matching his Chicago totals and you would think Edmonton would be happy with a pick in return and it could be a decent one, if they needed to take some salary in return.

With teams always looking to add depth to their backend, you could almost put money on Theo Peckham's name coming up in conversations with Steve Tambellini. While Theo is still nothing more then a depth D man, his size and style of play would certainly garner interest from playoff teams. Peckham was Edmonton's third round pick back in 2006 and has been passed on their depth chart. The chances of the twenty-four year old, pending RFA, cracking the Oilers blueline next season seem very unlikely. Having Theo as a seven guy on a playoff team, isn't a bad thing at all. If called upon, Peckham would be asked to play minimal minutes and would be far more effective. In my mind, almost any team would be interested in landing the tough as nails rearguard...if the price was right. If the return were a low grade prospect or a mid round pick, teams might just bite.


8,399 Stories & Growing Daily...
To date OurHometown.ca has posted a total of 8,399 stories! News, sports, hockey, lifestyle, opinion and more!

Be sure to check out our Contributors and Columnists archives!
Click on Photo or Story Title for more info
OurHometown.ca News Database Last Updated:
Dec. 31, 2021 @ 8:03 AM EST