Oilers Ales Hemsky not necessarily a second line player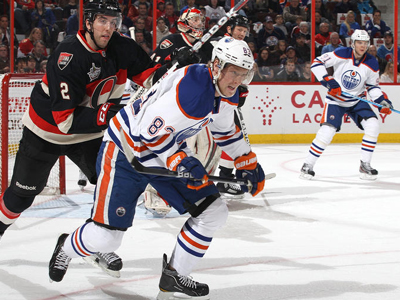 Edmonton - February 25, 2012 - The day after signing Ales Hemsky to 2 year/$10 million extension, many are wondering why the Edmonton Oilers decided to give that sort of money to a player that will be playing on the clubs second line. While there is little doubt that Ales Hemsky has been passed by Jordan Eberle on the Oilers right wing depth chart, he is not necessarily going to be this clubs second line right winger. The thought of playing the three kids together on the Oilers first line is something most fans would love to see but the more likely scnerio would be for Edmonton to split up the trio of Eberle, Taylor Hall and Ryan Nugent-Hopkins over the top two lines. With that being the case, I wouldn't exactly say that having Hemsky play alongside Hall would make Ales a second line player.

With the way this club is currently structured, one would have to think that they will not have a traditional first and second line setup. By sprinkling their talented youngsters throughout the top six, this team should rely heavily on their top two lines. The days of seeing the likes of Shawn Horcoff and Ryan Smyth playing twenty minutes a night, have to be a thing of the past. With the talent they will have on their top two lines, there is no reason whatsoever to not have the teams top players playing between 18-20 minutes a night. Which would leave minimal minutes for their bottom six...as it should be. Hemsky has never been an elite power play scorer but has always been one of the league's best, when it comes to scoring five-on-five.

Hemsky's power play time has been slashed drastically this season and that will not change any time soon. Eberle will continue to get those minutes over the talented Czech winger and hence make him the clubs top right winger but it is not as though Hemsky would be left playing with chopped liver. You would think Eberle ends up taking on a secondary penalty killing role next season and I fully expect to see Hall and Nugent-Hopkins also seeing time with Ales on the club's second PP unit. Hemsky will clearly still have an opportunity to collect his points, it will just be a matter if him staying healthy and doing it.

This doesn't even take into consideration who Edmonton ends up with from this year's entry draft. With the Oilers most likely ending up with a top three pick, smart money would be on them selecting one of Nail Yakupov, Mikhail Grigorenko or possibly Filip Forsberg. That being said, if they were to select third and both Russians were off the board, Edmonton would have to seriously consider selecting a defenceman, which would probably be Ryan Murray. They definitely need help on the backend but if a highly skilled forward is the best player available, they would take him. Which would mean, the possibility would still exist for one of Edmonton's forwards not named Eberle, Hall or Nugent-Hopkins would be in play to upgrade their blueline.


8,398 Stories & Growing Daily...
To date OurHometown.ca has posted a total of 8,398 stories! News, sports, hockey, lifestyle, opinion and more!

Be sure to check out our Contributors and Columnists archives!
Click on Photo or Story Title for more info
OurHometown.ca News Database Last Updated:
Dec. 31, 2021 @ 8:03 AM EST