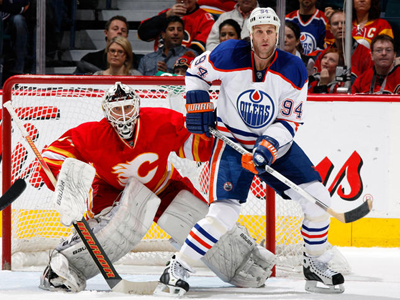 Edmonton - March 2, 2012 - Ryan Smyth has proudly worn an Edmonton Oilers jersey for thirteen seasons in what has been a seventeen year NHL career. While not one of the most skilled players to have worn Oiler silks in the past twenty years, he is the player who understood best what it means to have the Edmonton Oilers logo across your chest. This franchise's storied history is something that has been lost on nearly all of the players that have played in Edmonton over the past two decades but Ryan is a guy who gets it. He would love nothing more then to be a part of this clubs return to prominence. Unfortunately for the veteran winger, in order for him to be part of what will hopefully be the next great Oilers era, he must accept a greatly reduced role moving forward.

Heading into this season, my pre-season prediction for the hard working winger was the following:

[July 18, 2011] Smyth's return to Edmonton is just what the club needed in the leadership and "what it means to be an Oiler" departments. While Ryan's best days are behind him, I see him having a major impact on this team in the coming season. He will change the overall mindset of the players in that room and I think that will be the biggest mark he leaves on the club for the coming season. That being said, he'll have the responsibility of having two kids on his line and he'll be up to the challenge. Smyth should be a good fit with Eberle and Nugent-Hopkins because of his work on the boards and corners. I'm not one for bringing guys back for a second go round but I was hoping this one would happen and the Oilers will benefit long term because of it.
2011-2012 Prediction: 21 G - 24 A - 45 Pts

While some have suggested that I "don't like" Smyth and simply did not want him to come back to Edmonton, that is clearly not the case. As you can see, I had him playing exactly where he enjoyed his greatest success this season. With nineteen games left in the season and needing only five more points to reach my predicted point totals for him, you would think that he has had a great season.Unfortunately for Smyth, that hasn't been the case but in his defence, much of his struggles land directly at the feet of Head Coach Tom Renney and his staff.

The plan coming into the season, should have been, to use Ryan in a second/third line role with regular power play duty and the occasional spin on the penalty kill. Instead what we have seen, is Smyth playing regularly in all situations. After sixty-three games, he sits second in ice time among Oiler forwards with an average of 19:23 a night and while the extra time seemed to work wonders for the veteran in the early going, it has been a struggle for months. Everyone else on this club that slumps or takes dumb penalties or turns the puck over or coasts off the ice on line changes, has felt the wrath of the coaching staff by having their butts stapled to the bench but that has rarely been the case for Smytty and many other veteran players.

Smyth had a great start to the season but has struggled mightily since. Below you have his production split into two categories. The first set of numbers are his totals from opening night up to and including December 2nd. The second group, are his totals from December 3rd on:

GP: 26 G:12 A:14 Pts: 26, Plus/Minus: +5, TOI - 20:08 (13 games over 20 mins of ice time)
GP: 37 G: 5 A: 8 Pts: 12, Plus/Minus: -9, TOI - 18:55 (11 games over 20 mins of ice time)

The number that jumps out most, is twenty-four games in which he has played over twenty minutes. Add to that, twelve games that he played over nineteen minutes and another fourteen that saw him play at least eighteen minutes. That means he has played over eighteen minutes in 50 of Edmonton's 63 games and seven of those games in which he has played under eighteen minutes, have come since February 11th.

In comparison, Taylor Hall has played under eighteen minutes in 25 of his 53 games, Jordan Eberle in 39 of 59 and Ryan Nugent-Hopkins has been under that same threshold 23 times in 43 games. As the year has progressed, Hall and Nugent-Hopkins have both seen their time increase whereas Eberle, who leads the team in nearly every offensive category, has had his ice time remain unchanged. Confused? You should be. Instead of trying to find more ice time for this teams skilled players, the coaching staff continues to feed minutes to veteran players that are struggling badly. Yes there are tough minutes and "heavy lifting" that veterans need to do when they are surrounded by as many young and highly skilled players that Edmonton currently have on their roster but this is taking it to the extreme.

While doing the research for this piece, I sent out a tweet on Thursday morning that compared Ryan's stats from December 3rd - March 1st, to those of much maligned Eric Belanger:

Belanger - GP: 34 G: 3 A: 3 Pts: 6, Plus/Minus: -12, TOI - 14:45
Smyth - GP: 37 G: 5 A: 8 Pts: 12, Plus/Minus: -9, TOI - 18:55

When you consider who Smyth generally plays with and the opportunity he has regularly been given, compared to whom Belanger typically skates around the rink with, the argument could easily be made that Ryan has been far worse then the fans favourite whipping boy. Not suggesting that the first year Oiler needs to play more, far from it, but he has been no more ineffective then the fan favourite that wears # 94 on his back. No one would ever question Smyth's effort but that only gets you so far.

If Smyth were to re-sign with Edmonton, it would have to be with the understanding that he would have a reduced role. At thirty-six years of age, his days as a top six forward are finished. He may not want to hear that but it is fact. Could he be spotted in that role on occasion? Of course but it could only be for a short time. If the organization decides to not add anyone upfront for the 2012-12013 campaign, I would hope to see lines that look something like this:

Hall - Gagner - Hemsky
Paajarvi - RNH - Eberle
Smyth - Lander - Horcoff
Eager - Belanger - Petrell/Hartikainen

This gives them the ability to occasionally go to the three kids on the top line, while still leaving Ales Hemsky skill to play with and a player with wheels in Magnus Paajarvi. The glaring omission from the list is Ryan Jones. In my opinion, Jones and Smyth are the same player and to steal a quote form Oilers Now host Bob Stauffer, having both would be "redundant". They would serve the same purpose but one guy brings leadership and experience, while the other is better suited for the role and is much younger.

Another angle to consider, is if this or any other coaching staff can resist the temptation of playing a guy like Smyth in a bigger role. It is clear to anyone willing to pay attention, that he isn't the same player he once was but it seems as though both the player and coaches think differently. A player like Detroit's Tomas Holmstrom has accepted such a role and he is no longer part of the Red Wings top six but still plays a huge part on their power play while helping out in a bottom six role. That is the exact situation that Ryan Smyth needs to be placed in, if he were to re-sign in Edmonton. If that is not workable for Smyth or the club, then his playing days as an Oiler need to come to an end.