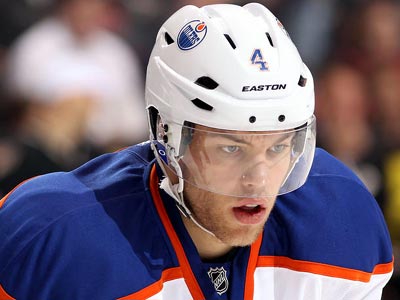 Edmonton - March 14, 2012 - With The Edmonton Oilers putting the finishing touches on what has been another disappointing season, many Oiler fans are looking for blood. With Edmonton's recent struggles and word that there may be some turmoil within the dressing room, many are calling into question the leadership skills of captain Shawn Horcoff. Not surprisingly, with the masses becoming restless the rumblings have started that the organization needs to hand over the captaincy to the heir apparent, in one Taylor Hall. In my mind, there is little doubt that Hall will be the Oilers next captain but placing that sort of burden on the kid, at this stage of the game, would be the worst possible thing this organization could do to their budding superstar.

While many Oiler fans have questioned the leadership abilities of the team captain, far too much blame is heaped on to his shoulders when things don't go right. As the guy with the "C" on his jersey and the team sitting where they are in the standings, it is only natural to question this club's leadership group. Especially when your head coach and teammates publicly question the willingness and commitment of the players. In my mind, that is a leadership issue but not on one player.

Many consider former Oiler Mark Messier to be one of the greatest leaders in sport history but you have to have the buy in of your teammates in order to lead and at the moment, there are too many players on this club that are going through the motions. When I say "buy in" I am not talking about the individual but rather the team's goals. Unfortunately, too many players on this team have reached the point where they just want this dreadful season to come to an end and have essentially checked out. One guy can only do so much.

To those of you that are calling for Taylor Hall to be given the captaincy next season, you are out to lunch. It should be obvious to anyone who watches Edmonton play on a regular basis that Hall will be this team's next captain. He is without question, the so called "straw that stirs the drink" and has that ability to pick up his team with his play on the ice. The kid never quits and wants nothing more then to turn this team back into a winner. That being said, you have seen on ice frustration from Hall at various points this season. Be it breaking his stick over goal posts or simply trying to do too much on his own when things are not going well for the club. No one can question his care but what people tend to forget, is he is still only twenty years old. So why would you even entertain the thought of putting the extra pressure of wearing the "C" on his shoulders?

Taylor is still learning what it takes to be an NHL player and what adjustments he needs to make to his game to become a better player. Should that not be enough for the youngster to deal with? If this team has some vets that are not buying in, should it really be up to the star young forward to be the one to call them out and discuss that sort of thing with the coach and management team? In markets like this one, there is a ton of crap that goes along with being a team captain and having your second year star player dealing with it, would not only be the wrong move, it would be moronic.

How about people take a step back and think about it for a minute. What good would come from this sort of move? Honestly, I can't think of a single one. Unlike the final couple of seasons of Ethan Moreau's reign, there doesn't seem to be the room divide that seemingly was spearheaded by the then Oiler captain. You never hear a negative thing said about Horcoff out of that room and the kids have done nothing but praise him and his qualities as a leader, for two seasons now. So what's the rush? I understand that many are frustrated with Shawn's game and his contract but that has nothing to do with his ability as a leader and by the sounds of it, he has done a good job.

Moving forward, having Taylor Hall and Jordan Eberle both join the rotation of wearing an "A" on their jersey next season would be a great move and a good first step towards handing over the leadership reigns to the kids in the near future. If there is a problem within the room with some veterans who are unwilling to do what is necessary of them, then those are the players that need to be removed from the equation...not the captaincy stripped from one of the club's actual leaders.