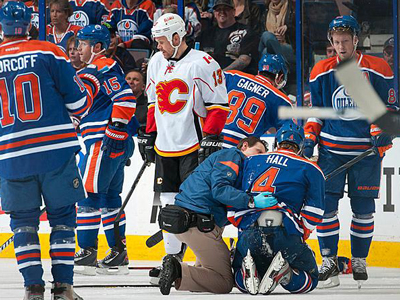 Edmonton - March 18, 2012 - After watching Taylor Hall be knocked into next week by Calgary Flames defenceman Cory Sarich during Friday night's Battle of Alberta, all I could think was someone better pay for that hit and pay big time. Instead, we saw the same old non-sense from the Oilers. In all honesty, Edmonton's decision to not answer the bell and send a message to not only the Flames but the rest of the NHL, that their players better not be targeted or there will be hell to pay...was utterly embarrassing. If they truly believe they sent a message to their provincial rivals by beating them on the scoreboard, they are living in a dream world. This mindset could have a disastrous outcome and potentially put the Edmonton Oilers talented young players in a very bad situation.

While I don't think the Sarich hit was dirty, it was clear the Flames blueliner had one thing in mind...to hurt Taylor Hall. The fact that Hall slipped only moments before impact possibly made the outcome worse but to think that there was any other intent, would be foolish. Hockey is a physical game and contact has always been and must remain a part of the game but when the opposition decides to take a run at your players, let alone your franchise players, there needs to be a response. It's not something that is up for debate, it simply has to happen.

Some believe this way of thinking is barbaric and it might just be but it is a necessary evil when it comes to protecting one of your own. Credit must be given to Ryan Whitney's initial response to jump to the defence of his fallen teammate against the Flames but the fact that no one settled the score by sending a clear and decisive message is unacceptable. Physical intimidation is part of sport but it is clear the Edmonton Oilers players are either unwilling or under strict orders, to not take part in this side of the game.

Edmonton did not have the services of resident tough guy Darcy Hordichuk or Ben Eager at their disposal on Friday night but they did have the likes of Andy Sutton and Theo Peckham dressed for just that reason. They decided to sit Linus Omark in order to get more "toughness" into the starting lineup and yet neither one stepped up to deal with the situation at hand. Now I am not sure if they were instructed to do nothing or if they choose to go that route but if they are not going to respond, what is the point in having them dressed?

While Peckham did try to engage Sarich later in the game, the Calgary rearguard declined the offer and that was the end of it. How is this effective? Great, Theo didn't take a penalty to put his team down and the Oilers ultimately won the game but the target on Hall and his teammates back, just got bigger.

This is an organization that in recent years have allowed players like Ales Hemsky to be continually run at by the likes of Robyn Regehr and the late Derek Boogaard, with little to no response. They have tried the route Peckham went on a number of occasions in the past and what purpose did it serve? Going after such players, in this fashion, has proved to be futile and yet they continue doing it.

What needs to be done is very simple but the players and coaches must be willing to do what is necessary. After Sarich decided to try and destroy Hall, the immediate response should have been to go after the Flames more talented players. Against a team like Calgary, running the likes of Jarome Iginla would be pointless but taking aim at players such as Mark Giordano, rookie Sven Baertschi, Alex Tanguay or Miikka Kiprusoff, if he was playing, is the way to go. If a team is trying to take out your best players, then you do the same...end of story.

Think for a minute what the response would have been if players like Steven Stamkos, the Sedins, Claude Giroux or Pavel Datsyuk would have been obliterated like Taylor Hall was? This has been going on for years against Calgary and it seems to be only getting worse. Earlier this season, the Flames Curtis Glencross was all over rookie Ryan Nugent-Hopkins and went as far as to challenge the youngster to drop his gloves and as usual, the Oilers just allowed it to happen with no response. After years of turning the other cheek when dealing with players like Regehr, Edmonton now sits where they currently do. With their franchise player on the sideline with a concussion and the rest of the league knowing full well, that they seemingly are unwilling to protect their own.