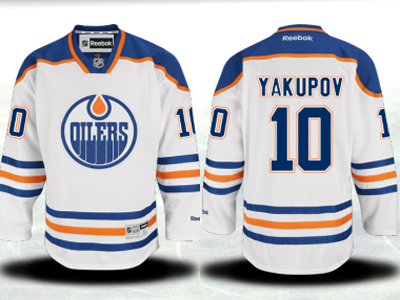 Edmonton - April 11, 2012 - With captain Shawn Horcoff currently wearing the number 10 on the Edmonton Oilers, fans will likely have to wait a few years before seeing Nail Yakupov wearing his junior number in Oiler silks. That being said, I am sure the highly skilled Russian winger will do just fine with whatever number he decides to put under his name bar...especially playing alongside three of the games best young players in Jordan Eberle, Taylor Hall and Ryan Nugent-Hopkins. The Oilers beat the odds Tuesday night, in winning the 2012 NHL Draft Lottery and now sit with the first overall selection for a third straight year.

Shortly after hearing the Edmonton Oilers name being called as the owners of the first overall selection in this June's Entry Draft, many fans and media started to debate what Edmonton should do with the pick. Do they keep it and take the top rated Russian? Do they draft a defenceman? Do they look to move the pick to shore up holes on their present roster? The options seem almost endless but in reality, there is no decision to be made. Unless another franchise comes to the Oilers and offers some sort of ridiculous package, there is no way on earth that this club will not step up to the podium in Pittsburgh on June 22nd and proudly call the name of Nail Yakupov as their third consecutive first overall selection.

Yakupov is not only the consensus top pick heading into this year's draft but he is at the top of the list by a very wide margin. While there seem to be a handful of gifted forwards such as Mikhail Grigorenko, Filip Forsberg and Alex Galchenyuk that could possibly go somewhere in the top five, this draft is littered with quality defencemen. The names you hear most often in this neck of the woods are those of Ryan Murray, Matt Dumba and Edmonton Oil Kings blueliner Griffin Reinhart. Would any of those players be good fits in Edmonton? Most definitely but none of them of the high end game that Yakupov appears to possess.

For those that feel the Oilers almost have no choice but to take a defenceman with their top selection, sorry to disappoint you because it won't be happening. If Edmonton had retained their spot with the number two selection, there was no guarantee they would have drafted a blueliner and now that they are in the number one slot, all bets are off. Head scout Stu MacGregor and his staff do not appear to believe in drafting for apparent "organizational need" in the first round or two and instead go with whom they feel is the best overall player.

Many so called experts, go on about how poor the Oilers blueline is and they would be correct. They definitely need an upgrade on the backend at the NHL level but that won't happen courtesy of the entry draft. Edmonton already have two young quality D men on their current roster in Ladislav Smid and Jeff Petry and some blue chip prospects in Oscar Klefbom, Martin Marincin and David Musil already in the system. Add to that, whatever blueliner they pick up at this year's draft and the cupboard isn't nearly as bare as some make it out to be. Are they missing that true stud on the backend? Maybe but those players are few and far between and generally take years to develop.Could players like Murray or Reinhart be those guys? Possibly but they are not sure things, where as Yakupov seems to be just that.

The Sarina Sting winger put together an impressive rookie season in 2010-2011, scoring one hundred and one points while adding forty-nine goals in sixty-five games and followed that up with sixty-nine points this year, despite missing twenty-six games due to injury. The kid is often compared to fellow Russian Alexander Ovechkin and the thought of adding that type of player to Oilers current trio of young stars, is simply staggering. This quartet of elite level talent have the ability and potential, to wreak havoc around NHL rinks for the next number of years and in the process, help produce something very special in the City of Champions. Players like Yakupov do not grow on trees and you simply do not pass up on that type of talent. It should surprise no one, if he turns out to be just as good, if not better, then any of Eberle, Hall and the Nuge. A frightening thought indeed and one that I think that makes moving the first overall selection an impossibility on the Oilers end.

It would be foolish to think that this team could repeat the type of success they achieved during their dynasty days of the 1980's. Having said that, with the possibility of this roister looking like it could in the very near future, it would not be to far fetched to think that they could once again become one of the league's premier franchises. The common denominator with any team that consistently wins, is high end talent and a desire to be the best you can be. The Edmonton Oilers have lacked badly in both those ares for sometime but it appears as though, that run of futility is about to come to an abrupt end, in the not to distant future.