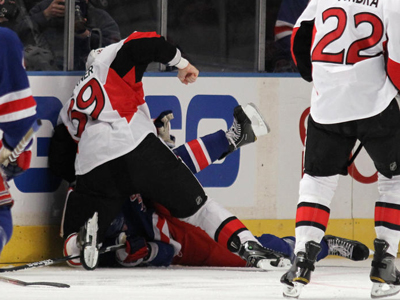 Edmonton - April 15, 2012 - Watching Ottawa Senator defenceman Matt Carkner lay a beating on an unwilling Brian Boyle during the early stages of last night's playoff battle against the New York Rangers and Sens, brought a huge smile to my face. That smile then turned into to an all out grin, when Chris Neil decided to drop his mitts and engage Boyle one more time just over six minutes later. All I could think, was I sure hope all the Edmonton Oilers players, coaches and management were tuned in and paying close attention. That is how a team needs to react to a player from the opposition taking shots at one of your star players. Unfortunately, fans know all to well that isn't the case in this neck of the woods, as the Oilers players seem more then ok with teams continually taking runs at the likes of Taylor Hall and Jordan Eberle.

During the opening game of their first round series, the Rangers pushed the Senators around at will with little to no response from the visiting Sens. In fact, Boyle felt that it would be acceptable for him to give Ottawa's star blueliner Erik Karlsson a face-wash followed by number of rabbit punches to face in hopes of intimidating the youngster. not surprisingly, the Rangers took the opening game 4-2 but coach Paul MacLean decided to make a lineup change for the return engagement last night.

By inserting big Matt Carkner into the lineup, it was clear he didn't like what he saw in the series opener and was going to waste little time address it. The hulking Senator defenceman went after Boyle just two minutes in and the Ranger forward decided to not man up and go with Carkner, which mattered little to the Sens tough guy. He proceeded to pummel Boyle up against the glass with repeated blows to the head and continued throwing punches as the Ranger forward went to the ice and attempted to turtle. The expected melee ensued and Carkner found himself ejected from the game but not before sending a clear message that the Senators would not be pushed around without retribution and as an added bonus, he managed to have the Rangers Brandon Dubinsky also thrown from the contest for being the third man into. Sure Ottawa was stuck with having to kill off a five minute penalty because of the altercation but good teams kill those types of penalties off and the Sens did just that. Seems like a pretty good trade off in my mind.

Just to ensure that New York got the message Chris Neil decided to tangle with Boyle just over six minutes later, to let them now the Senators were ready to standup for themselves on this night. The stat that best represented their willingness to compete, was every Senator player was credited with at lest one hit on the night, except Carkner. Obviously, the message was their head coach was heard loud and clear by everyone in the Ottawa dressing room and they were rewarded with a 3-2 victory, with Neil scoring the overtime winner.

Those that follow the Edmonton Oilers know full well that this team has shown a lack of gumption, when it comes to defending one of their own and it has been that way for a number of years now. This season alone, teams have taken repeated runs at the likes of Taylor Hall, Jordan Eberle, Ryan Nugent-Hopkins and Ales Hemsky. with Edmonton never taking the opportunity to answer to the challenge. The most glaring lack of a response, coming when Hall was taken out in Colorado back in November and then again, late in the season when the Flames Cory Sarich obliterated their franchise player.

All we heard on both occasions, was how they couldn't respond because they had to worry about the outcome of the game...the time wasn't right. Against the Avs, they were in a tight game that they not only ended up losing in overtime but also allowed defenceman Ryan Wilson to get away with nailing Hall and not having to answer the bell. Remember the mantra on the night they beat the Flames? They made Calgary "pay on the scoreboard" and that's where "it would really hurt them"...really? All I know, was one of your best players was knocked into next week and once again, no one on your roster decided to do anything. Theo Peckham challenged Sarich later in the game but the Flames blueliner refused to drop the mitts so that was the end of it. That sure wasn't the case last night in New York, now was it.

While I don't think I am going out on much of a limb here but it is pretty safe to say that game two in a Stanley Cup playoff series is just a tad more important then two meaningless regualr season games. Yet the Senators had no problem whatsoever doing what was needed...in order to send a message. Take cheap shots at our stars and someone is going to pay. Whereas in Edmonton, the mindset seems to be to take a run at one of our star players and once you manage to knock one of them out of action, feel free to turn your focus onto another.

Does anyone think it was a coincidence that teams started to focus on Jordan Eberle after Hall was obliterated by Sarich? Teams know the Oilers won't respond so they are allowed to run around and do whatever they would like out there. While some of the injuries Oiler players have suffered in recent years have been on the bizarre side of the ledger, can you think of a team that has had so many of their star players suffer injuries year after year?

I have never been able to figure out Edmonton's seemingly unwillingness "standup for each other" in recent years. Be it from the players, coaches, management or a combination of the three, the fact is it has to stop and stop immediately. This organization needs to grow a pair and do what is necessary to protect their own. To their credit, they tried signing Chris Neil a couple of off seasons ago and fell short but he obviously understands his role on a team. Unfortunately, that seems to be missing in far too many of this organization's players. They seem to be far more concerned with how much ice time they get, instead of actually doing their job when they are on it. Not sure who would be the right fit but there are options out there and it is a fit that better be found before the start of the 2012-2013 campaign.