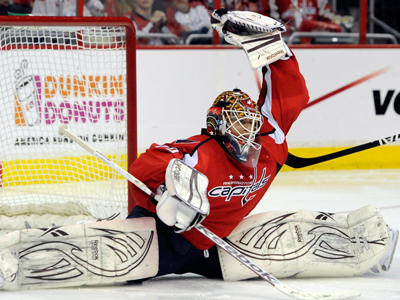 Edmonton - April 20, 2012 - When Braden Holtby first appeared on the NHL scene during the 2010-2011 campaign, it was very apparent the Washington Capitals had themselves a keeper. During his brief call up last season, Holtby was very impressive. In fourteen games, he went 10-2-2 with a 1.79 GAA and a .934 SV% but was still not handed the keys to the car...though he likely should have been. After being swept out of last year's playoffs in the second round against the Tampa Bay Lightning, Washington decided to sign veteran netminder Tomas Vokoun instead of going with their twenty-two year old youngster between the pipes. In hindsight, it looks as though it was a move that was frankly unnecessary and one the Caps will not repeat any time soon.

After being lit up by the San Jose Sharks for five goals in a one game call up in mid February, Holtby was sent back to Hershey only to return in late March, after both Vokoun and Michal Neuvirth suffered through injuries. He started six of the Capitals final ten regualr season games and his stats were eerily similar to those he posted last year. If you remove the game against the Sharks from the equation, Holtby went 4-1-1 in his final six appearances with a 1.99 GAA and a .936 SV%. While the sample size is far from enormous, it was clear to anyone with a functioning set of eyes, that the kid was ready to play at this level.

With the health concerns of the clubs two regualr netminders still a concern, head coach Dale Hunter decided to play the only ace he had in his hand and went with Holtby as his starter for the playoffs. While it was more of a move out of necessity then anything else, it was a move that has paid huge dividends after only four games of this year's playoffs...with much more to follow.

The former 2008 fourth round selection has managed to put on a goaltending clinic, while holding the defending Stanley Cup Champions at bay and leaving his team a chance to win every night. Through four games of the Capitals opening round series against the Boston Bruins, the youngster is 2-2 with an obscene .950 SV% and a GAA of 1.60. He has allowed one goal in three of those starts and is arguably coming off the best performance from any netminder in this year's post season.

His forty-four save effort in last night's thrilling 2-1 victory, was simply mesmerizing. After allowing Rich Peverley to tie things up at the 13:12 mark of period one, with somewhat of an iffy goal, Holtby was a wall the rest of the way. Despite being outplayed over the final forty minutes and out shot to the tune of 31-18, Washington now heads back to Boston with the series squared up at two a piece, thanks in large part to the play of the Lloydminster native.

Holtby turned away wave after wave, making one highlight reel save after another. While not the largest goaltender in the league at 6' 2" and 200lbs, the kid is far from small and yet plays an acrobatic style of goal that is rarely seen from today's puck stoppers. Holtby seems to be at his very best when he is called upon to make a game changing stop and raises his level of play when it matters most.

When you combine his ability to shine in critical moments with the flare he plays the position with, windmill glovehand stops, he somewhat reminds me of Grant Fuhr. Very much like the former Edmonton Oilers legend, Braden seems to possess that rare ability to immediately shake off a weak goal and instantly follow it up with the "impossible save" whenever his teammates need it. The whole time looking calm, cool and collected with not a care in the world. Which was another trait that former teammates absolutely loved about the five time Stanley Cup winning netminder.

After all of twenty-five National Hockey League games, I am not about to sit here and say the Washington Capitals young tender is at the level of one of the greatest clutch goalies the game of hockey has ever seen. Having said that, one would have to say that all signs are pointing to this kid becoming a very special player and with how well Braden Holtby is currently playing, it should surprise no one if he were able to start building his own legend...by leading the Caps to a first round upset over the heavily favoured Boston Bruins.