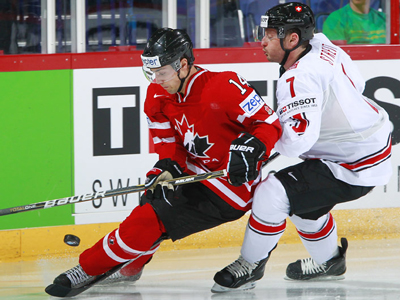 Edmonton - May 10, 2012 - As the World Hockey Championships continue to move along, Team Canada seems to be improving every time out but have yet to find their "A" game. While their hard fought 3-2 victory over Switzerland was their best performance of the tournament, it is still nowhere near where it needs to be, if they plan on regaining the crown that has eluded them since winning the 2007 championships.

It was the usual Team Canada stalwarts that got the job done, as both Jordan Eberle and John Tavares had a goal and an assist each. While Ryan Getzlaf finally made an appearance, scoring the game winner early in the third period. With the win, Canada now sits atop Group A with a 3-0-1 mark but will likely find themselves back in second spot on Thursday. Team Finland is currently second with a perfect 3-0 record, which they should have very little trouble pushing to 4-0, after taking care of the underwhelming French on Thursday.

This one could not have started off any better for the Swiss, as a lucky deflection led directly to the games opening goal, just over a minute and a half in. After breaking up an innocent looking attack at the Team Canada blueline, Jamie Benn had Goran Bezina pass attempt ricochet off his stick and right onto the blade of an unmarked Damien Brunner, who wasted little time, putting his bit of good fortune past Cam Ward and giving Switzerland the surprising early lead.

That lead what remain intact, until the opening seconds of the middle frame and a wonderful shift from the Tavares line to start period number two. Netminder Tobias Stephan robbed Eberle on a wraparound in the opening twenty seconds but it would take the Edmonton Oilers star winger another fifteen, to ensure this game would be tied at one. After being stoned by the Swiss puck stopper, the puck found its way back onto Eberle's stick in front of the Swiss goal and just like that, we were tied at one. While the initial viewing of the play looked as though the second year Oiler put the loose puck into the net, he had actually knocked it in off Tavares' skate. Not too sure if the talented Islander centre has ever scored and easier goal but it was one that Canada would gladly take.

Switzerland continued to bottle things up and kept the score knotted at one through forty minutes and were rather unfortunate, to not be in front after two. Andrew Ladd kept out a certain Swiss goal, knocking a shot on net out of harms way, with his hands, while falling back into an abandoned Team Canada net. The play came only minutes after Eberle's marker and while Canada did catch a break on that play not resulting in a goal against, it seemed almost just after the bounce Switzerland received on their opening tally.

While it took the Tavares line all of thirty-five seconds to find the twine in period two, it would take Eberle only forty-one seconds to score arguably the prettiest Team Canada goal of the tournament but even more importantly, gave Canada its first lead of the game. Edmonton's leading scorer picked up another loose puck just inside the Swiss blueline and weaved his way past two players before roofing an absolutely ridiculous backhand, for his third goal of the championships.

That lead would be short lived, as Bezina would tie things up just over three minutes later on the power play. With defenceman Kyle Quincey in the penalty box, forward Evander Kane wiped out behind the Switzerland net on on the penalty kill forecheck, allowing them to breakout on an odd man rush and moments later it was a 2-2 game.

Just over four minutes later, we had our first Ryan Getzlaf sighting and it couldn't have come at a more opportune time for the Canadians. After Cam Ward barely was able to fend off a Switzerland attack, the captain picked the puck in front of Canada's net and logged the puck all the way up ice, before hammering a bomb past Stephan on the stick side, putting Team Canada in front to stay. After playing three games of uninspiring hockey to open this year's tournament, Getzlaf and linemate Corey Perry, finally had a little jump to their game and that needs to become the norm, in order for this team to have any hope of winning, that suddenly elusive Gold Medal.