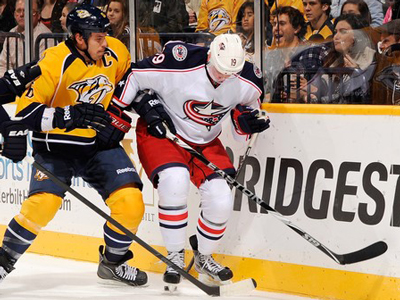 Edmonton - May 14, 2012 - When one looks at the Edmonton Oilers current roster, you see a collection of elite level talent that has some glaring weaknesses around them. While the organization still has a fair bit of "tweaking" to do before they are ready to compete with the better teams in the league over an eighty-two game schedule, they do have two glaring needs that must be addressed. Those being a top flight NHL defenceman to add to their backend and a young second line centre with size and skill that would compliment Ryan Nugent-Hopkins.

While such players are usually not made available via trade, the Oilers do have the unexpected bonus of holding the rights to the first overall selection in this summer's Entry Draft at their disposal. It is an ace up their sleeve that never had in the past. If Edmonton were to seriously entertain the possibility of moving the top pick, two possible targets would be Nashville Predators defenceman Shea Weber or Columbus Blue Jackets centre Ryan Johansen.

In my mind, Edmonton's backend looks promising long term but still appears to be missing that true number one guy. With that player not currently in their stable of prospects and the organization wanting to compete for a playoff spot in the upcoming season, the current holes on the blueline have to be addressed. While I was one who was firmly entrenched on the Shea Weber bandwagon for nearly three years, I drastically backed off that notion over the last twelve months. In my mind, they could not offered a $7 million defenceman long term nor did they have the necessary assets, that they would be willing to part with, in order to acquire the all world rearguard. While the cap number may still be a concern, winning the draft lottery has given them a piece of the puzzle that they have never had in the arsenal.

The first overall selection on it's own would not get you a player of Weber's caliber but it would definitely give Edmonton a legitimate piece to go big game hunting with. Nearly every NHL team has thrown around mid to late first round selections at some point in their franchises history. No one wants to give those picks up but most general managers will do it, if they feel it will help them get into the playoffs or allow their club to take a run at the Stanley Cup. That being said, moving the top pick is a completely different animal.

In Weber, Nashville has a player that they would love to sign to a long term contract but in all honesty, have no idea if that would even be possible. With the former Norris Trophy nominee set to become a restricted free agent on July 1st and his D partner Ryan Suter headed for unrestricted free agency on the same day, the likelihood of signing both to long term deals seems unlikely. As good as those two are, the fact that the Predators would be tying up over $21 million on two blueliners and goaltender Pekke Rinne, makes little to no sense. Nashville is a team that has always struggled to score goals, which was never more evident then in their second round series against the Phoenix Coyotes. It's great to be able to keep the puck out of your net but if you can't score, you will not win.

From the Oilers stand point, any sort of deal involving Weber would have to include the Canadian Olympian signing an extension with Edmonton. As for the Predators, they would need to have either a clear indication from the blueliner that he had no intention of signing long term with the Predators or already have Suter inked to a deal.

Edmonton would certainly not be willing to move Nugent-Hopkins, Taylor Hall or Jordan Eberle in a deal and would probably do their best to not have prospect Oscar Klefbom included but they would certainly listen to offers for the big Swede. That means the likes of Sam Gagner, Magnus Paajarvi and Anton Lander would be made available and possibly one of Ladislav Smid or Jeff Petry, if the package made sense. Prospects like Martin Marincin, David Musil and Tyler Pitlick would obviously all be in play, as would the Oilers 2013 first round pick.

The other attractive piece Edmonton can offer in a package, are veteran players such as Ales Hemsky and Ryan Whitney, that could help the Preds now. They have had interest in Hemsky for some time now and he would instantly improve their pop gun offence. Obviously, there would be concern surrounding his health and the fact he is coming off a dreadful season but in my opinion, Ales is entering his prime and still has a lot to give, As for Whitney, he would be a perfect short term fix to help replace the loss of Weber. Like Hemsky, Ryan would be a bit of a risk because of his injury history but he entering the final year on his current deal and could be an excellent pick up, if he stays healthy. Whitney is not a number one defenceman but with Suter in the mix, he would not be asked to play over his head...which has been the case in Edmonton.

These are nothing more then possible suggestions but when you consider some of those names along with the first overall selection, suddenly a deal doesn't seem so far fetched. How I see it, the Predators will not be able to sign both Weber and Suter and could ultimately lose both. if that were the case, would many teams be willing to offer more in a deal then the Edmonton Oilers? Possibly but I can't see it. With Suter being an unrestricted free agent this summer and Weber headed for the same distinction in July 2013, would most teams really be willing to give up a bunch for him? Why would they not wait and take a run at him as a UFA? For a team like Edmonton, that isn't an option but for teams like the Detroit Red Wings, Philadelphia Flyers or New York Rangers that would be the way to go.

As far as the Blue Jackets go, it would be far more cut and dry. While last week, TSN analyst Craig Button referred to the possibility of a Ryan Johansen for the 2012 first overall selection as a deal that the Oilers "should make as quickly as possible" on Bob Stauffer's OilersNow radio show, it is a move that definitely makes sense. Johansen would be the perfect running mate for Ryan Nugent-Hopkins and give Edmonton two solid duos with Taylor Hall and Jordan Eberle. The former Portland Winterhawk was selected fourth overall in the 2010 Entry Draft and is a highly regarded prospect. That being said, he is coming off a disappointing rookie campaign in Columbus, in which he was misused for much of the season. Instead of playing with Rick Nash on the Jackets top line, the youngster found himself stuck in a bottom six role for much of the season.

If the two sides could work a deal in which Edmonton gives up a little more, another pick or lower end prospect, it could possibly work for both teams. Columbus could potentially reshuffle their entire future in one afternoon. Make no mistake, the Toronto Maple Leafs will go hard after Nash in the off season and any deal involving the big man would have to include the Leafs fifth overall pick as part of the equation. If the Jackets were able pull the trigger and make moves with both the Oilers and Leafs, they would not only be sitting with three of the top five picks in the draft but they would have likely added another piece or two to the puzzle from Toronto, say a Luke Schenn or Nazem Kadri.

They could literally go any direction they would like on draft day. They could take Nail Yakupov and Ryan Murray with the top two picks and then add another forward to mix or they could take two forwards like Yakupov and Filip Forsberg and then take a quality blueliner at number five. In all honesty, their options would almost be endless and the late season addition of Jack Johnson in the Jeff Carter deal, has already given them a nice starting point on the backend, that was not previously present.

The Blue Jackets would potentially be giving up a great player in Johansen to the Oilers but they would be given the rare opportunity to blow up and rebuild their entire franchise's future and have their fans complete buy in. While Columbus may not be your traditional hockey hotbed, this type of move would certainly create a massive buzz in their market place and give their fans an actual sense of a long term goal. If you look at the Jackets current mix, can you tell what they are and where they are headed? If you can, please let me know what that is. Ultimately, it is a win - win situation and one that may serve both organizations to seriously consider.