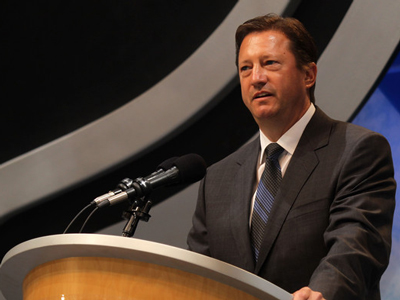 Edmonton - May 22, 2012 - To say that Steve Tambellini's tenure as the General Manager of the Edmonton Oilers has seen its share of ups and downs, would be putting it mildly. One area he has excelled at, is having the privilege of announcing the top selection at the NHL entry draft. This will likely be the third straight year that he will step up to the podium and announce the number one pick. That is all well and good but last time I checked, the point of playing the game is to try to win...not lose.

While this organization decided to make that difficult decision and go the route of a complete rebuild, the time has now come to start seeing some sort of an improvement in the standings. Last week the club decided to not bring back head coach Tom Renney for the 2012-2013 season. Without coming out and saying as much, the organization obviously felt that Renney was not the right man for the next stage in the Oilers rebuild. Which is fair enough but would it not be just as logical to be asking the same question about Tambellini? The fact this organization has yet to announce a contract extension for the former Assistant General Manager of the Vancouver Canucks, shows they may be doing just that.

In Tambellini's defence, he was brought in on July 31st, 2008 to help get this team back to playoffs. The plan was not to start a rebuild, in fact it was the complete opposite. Edmonton was coming off a season in which they narrowly missed out on the final playoff spot in the Western Conference, after a horrendous 2006-2007 season. That made it two years in a row that the club had missed out on post season play, after nearly winning the Stanley Cup during their magical run in 2006. It was clear what Steve was brought in to do, get this team back inside the top eight in the West.

Unfortunately, that didn't happen and the club finished even further away from qualifying for the postseason in his first year at the helm. At that moment Edmonton should have decided to go the way of the rebuild but the mandate remained the same. It was not until the midway point of an absolutely dreadful 2009-2010 campaign, that they finally decided to blow it up.

People who refer to the Oilers rebuild as something that has been going on for "six years" are not only misinformed but dead wrong. When in actuality, it has not even been three full seasons. Contrary to what many would have you believe, Edmonton's rebuild did not officially start until they selected Taylor Hall with the first overall pick at the 2010 entry draft. To be fair, Tambellini's body of work should be assessed from that point on.

Since then, the Oilers have finished 30th and 29th in league standings and while their youngsters have shown a marked improvement on a yearly basis, the production from the veteran players has stagnated. Which in my mind, is one of the GM's greatest failures to date. While some of his initial free agent signings, like Nikolai Khabibulin, haven't panned out as the club had hoped. I will give him a pass on those, as the focus was on the playoffs and retooling...not rebuilding.

That being said, recent additions like Eric Belanger, Ben Eager and Ryan Smyth have been less then successful. While all of these players had decent moments last season, the problem has more to do with what type of role they were brought in to play, then solely what they produced on the ice. When you decide to go out and acquire veteran players to play with as young group as this one, you better be damn sure they clearly know their roles coming in. Which wasn't the case with the aforementioned names.

This organization went through that song and dance during the 2009-2010 season and Tambellini had a front row seat for it. With that being the case, for him to bring in players with a somewhat similar mindset back into the organization, is an epic fail on his part. From an outsiders perspective, they seemed like guys that could be good fit but that was not the case. There is probably a reason why all of them have played on numerous teams throughout their careers. It is very simple...do your homework before bringing players into the fold. No one is going to get it right all of the time but you should not be striking out on a regular basis.

Another are of concern, is his acceptance of where this club is sitting on the developmental wheel. The goal coming into this season was never to compete for the playoffs and yet that was the bag of goods he was selling the public. While there are many fans in this market who are extremely frustrated with all the losing, that frustration becomes louder when the face of your front office says one thing and does the complete opposite. This isn't a non-hockey market, there is no need to sell tickets. Rexall Place is near capacity on a nightly basis and that won't change anytime soon. Having said that, if the plan piss their fan base off...they are going about it the right way.

Everyone knew Edmonton's defence was not good enough heading into the season but the stellar play of Khabibulin and a successful smoke and mirrors routine on the backend, had the Oilers get off to an outstanding start. Not surprisingly, they started to cool off but the bigger concern was all the injuries they suffered to their already weak defense core. Instead of doing something to help his group along, Tambellini stood by and watched them implode and did nothing. No one was expecting him to make a monster splash but for god's sake do something. Remember that bag of goods you were trying to sell the fans at the start of the season? How about you actually pretend like you meant it?

Not only from a fans perspective but from a players standpoint, a little help would go a long way. When you are out on that sheet of ice and giving all you have for that logo on your chest, you would hope your management was on the same page and do something to help you out. That is not the case in Edmonton.

While not all the moves Steve Tambellini has made as the GM of the Edmonton Oilers have worked out, the fact that he seems almost hesitant to make any sort of move, outside of moving Dustin Penner, is a major concern. There is nothing wrong with going out and trying to make a move to improve your team for today. In all honesty, it is far easier to just continually talk about tomorrow and a bunch of what ifs, instead of doing something about the here and now. Since becoming the club's GM, Tambellini has come out at the end of each season and has repeatedly gone on about how "losing will not be accepted" by this organization. That is rather comical because his lack of gumption to go out and get something done, has sent out the complete opposite message.

Make no mistake, it takes time to rebuild a team from scratch and it can be rather painful. This franchise decided to go down that road and it has been one bumpy ride for both the fans and organization. Nonetheless, the time has come for this group to take a step forward in 2012-2013 and that step can not be to the 28th spot in league standings. Anything short of the Oilers competing for a playoff spot must be deemed a failure and would surely mark the end of Steve Tambellini's time in Edmonton.