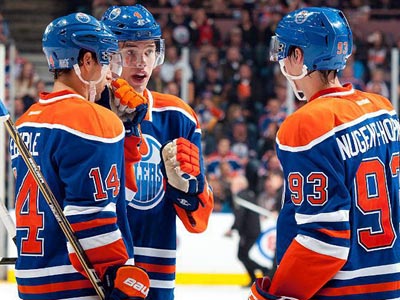 Edmonton - May 28, 2012 - As electric as the trio of Jordan Eberle, Taylor Hall and Ryan Nugent-Hopkins looked during stretches of the 2011-2012 campaign, the Edmonton Oilers would be wise to keep away from playing the three youngsters together at even strength. While they could potentially put together some impressive numbers playing as a unit, the goal is for this club to push for the playoffs, not pad the kids stats. They need to spread the wealth and the addition of certain member of the Sarnia Sting should make that a whole lot easier to accomplish

The one area this organization has had challenges with, for what seems to be an eternity, is finding scoring depth. Best case scenario, would be a balanced attack up front but that is rarity in today's NHL. The template most try to follow, is to build a couple of potent scoring lines but that is far from easy. That being said, bringing in a talent such as NailYakupov would allow them such a luxury.

The duo of Nugent-Hopkins and Eberle have formed a special chemistry during their brief time together in Oiler silks and simply can't be broken apart. Add to that the fact that the best hockey winger Ales Hemsky has played over the last two seasons has come when he's played at even strength with Hall and it seems obvious what route they should go. The question then becomes, where does Yakupov fit in?.

While he has played on the right side in Sarnia, he is a left handed shot. Logic would dictate one of two things. He plays alongside Eberle and RNH on left wing or he skates with Hall in his more comfortable position on the right wing. Having the young Russian on a line with Hall would seemingly leave Hemsky without a home but that would not necessarily be the case.

Though the Oilers coaching staff did not use the line for any length of time, Hemsky saw action in a couple of games with Eberle and Nugent Hopkins, after Hall was shutdown for the season.While the Nuge and Ales are not a good fit on the power play, the two have meshed nicely five-on-five. Remember that the pair started the season on a line with Hall and looked good, until the talented Czech was sidelined with a shoulder injury. Playing the veteran winger in such a role, would allow the Oilers to see what type of magic the two first overall selections could produce. With all due respect to Sam Gagner, as it currently sits, there is no one on this roster who is capable of sliding in between the potentially explosive duo.

Edmonton's focus this off season will undoubtedly be on upgrading their backend but they must not forget to bring in a second line centre with size. While it may be something that is easier said then done, it it something that has to be addressed. The chances of finding such a player via free agency, seems highly unlikely, as the only real option is Los Angeles Kings centre Jarret Stoll, whom is best suited to a third line role. If they can find a veteran who is capable of playing with those two on a short term basis and take on some extra minutes on the second unit power play, they will have hit the jackpot.

In a perfect world, if Olli Jokinen weren't Olli Jokinen, he would be the guy. Size, skill and a boatload to deal with when motivated...unfortunately that is not nearly often enough, when it comes to the veteran Finnish pivot. The answer is out there, it just needs to be located by General Manager Steve Tambellini and his pro scouting staff.

As good as the Oilers power play was during the 2011-2012 campaign, the thought of a top unit that could consist of Eberle, Hall, Nugent-Hopkins, Yakupov and a blueliner (Justin Schultz would work nicely), is down right frightening. Even if they were to go with last year's unit of the three youngsters on the first unit and run with Hemsky and Yakupov as the centre pieces of the second, you would be hard pressed to find a more talented power play crop anywhere in the league.