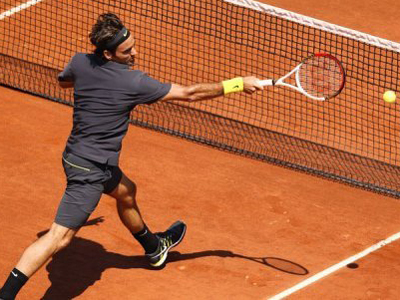 Edmonton - May 29, 2012 - Canadian Milos Raonic was impressive in moving on to the second round of the French Open, while top seed Novak Djokovic continued on his winning ways. Third seed Roger Federer added yet another feather in his rather illustrious cap, earning his 233rd career Grand Slam match win, to pull into a tie with the great Jimmy Connors for the most wins by a player in the Open era history.

Raonic had little trouble breezing past Ruben Ramirez Hidalgo in straight sets, 6-4, 6-2, 6-2 in moving on to round two. The youngster blasted his way to victory with forty-seven winners compared to the nine that Hidalgo had on the day. As usual, his serve played a big part in his success as he pounded out fourteen aces but his overall percentage of just fifty percent, will have to improve if he plans on making in through to the round of sixteen. The Canadian's next opponent will be American Jesse Levine, who should be little more then a speed bump for Milos.

Federer made quick work of Tobias Kamke, dismissing the German 6-2, 7-5, 6-3.in his opening match at this year's Open. As mentioned earlier, the win was a little extra special for the great Swiss maestro, as he pulled into a tie for most Grand Slam career match wins with Connors. Roger's very first victory came way back in 2000 against former French Open champion Michael Chang at the Australian Open. While it will very likely just be a matter of days before Federer passes the former American great, he seems far from satisfied with his sixteen career Slam titles.

The number one ranked Djokovic was given a slight push by veteran Potito Starace in the first set of their opening match but the Italian could muster up nothing over the final two, falling 7-6, 6-3, 6-1. The Serb rode a hot first serve, winning over eighty percent of his first serves, while not having to face a single service break for the entire match. He will now face Blaz Kavcic who manged to pull off a mild upset, taking out Australian Lleyton Hewittin in four sets.

Other notable winners during the second day of competition included Frenchman Gilles Simon, seventh seed Tomas Berdych, American John Isner and Australian youngster Bernard Tomic.

Day three will feature the debut of French Open favourite and defending champions Rafa Nadal, as well as the opening match from fellow Spaniard and sixth seed David Ferrer. Scotland's Andy Murray will also be hitting the clay for the first time when he takes on Japan's Tatsuma Ito, as will fan favourite Richard Gasquet.