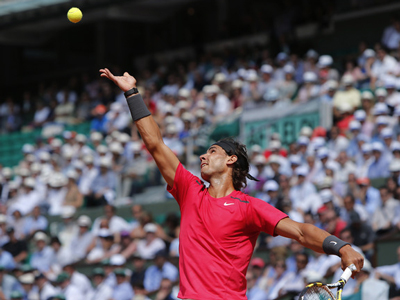 Edmonton - May 30, 2012 - Heading into the French Open, many felt Rafa Nadal was the odds on favourite to capture yet another crown on the red dirt of Roland Garros. If yesterday's opening round whitewashing,of Simone Bolelli is any indication, it appears as Rafa's sole focus is to lift the Coupe des Mousquetaires for a record seventh time. Fourth seed Andy Murray also impressed in his opener, easily dismissing Tatsuma Ito in straight sets.

The the number two ranked player in the world wasted little time in getting the jump on his over matched opponent, comfortably taking the first set on the strength of two service breaks and only seven unforced errors. Unfortunately for the Italian, Nadal would only get stronger as the matched went along, winning 6-2, 6-2, 6-1. The defending champion finished up with only eighteen unforced errors on the day and improved with each passing game. The Spaniard's punishing ground game was simply too much for Bolelli to handle.

Like Nadal, Murray wasted little time setting the tone in his French Open debut taking six of the first seven games and an early one set lead. To Ito credit, he made Murray work in the second set before bowing out 6-1, 7-5, 6-0. The easy win should leave the just recently turned twenty-five year old, in a positive frame of mind, as he looks to finally get the Grand Slam final monkey of his back...easier said then done.

Other notable winners included number six seed David Ferrer, crowd favourite Richard Gasquet and the underrated Janko Tipsarevic.The one upset of the day came from the battle between two fellow countrymen, as Sergiy Stakhovsky upset sixteenth Alexandr Dolgopolov in five sets 6-7, 6-4, 7-6, 3-6, 6-3. While not a massive upset, it was undoubtedly a disappointing outcome for the top ranked Ukrainian to be bounced in round one.

Second round action gets underway on Day Four of competition, with former champion Roger Federer and top seed Novak Djokovic being the main attractions. The third seed will take on Romanian Adrian Ungur to kick of round two. While Djokovic could face a slightly tougher challenge from Blaz Kavcic, who bounced Lleyton Hewitt in round one. Others of note that are scheduled to hit the court include number five seed Jo-Wilfried Tsonga and fellow Frenchman Gilles Simon,. While seventh seed Tomas Berdych and Argentinian Juan Del Potro will both be in action.