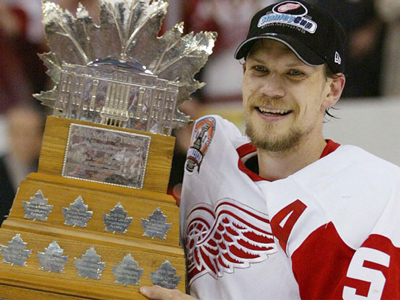 Edmonton - May 31, 2012 - When most people talk about the career of Detroit Red Wings defenceman Nicklas Lidstrom, more often then not, he is mentioned along the absolute elite blueliners to have ever graced a National Hockey League sheet of ice. The names you hear most often mentioned with the talented Swedish defenceman are those of Bobby Orr, Doug Harvey and Eddie Shore. Those three are widely considered to be the best three men to ever play the position in the history of the game...impressive indeed.

While it is always difficult to compare players from different eras, you would be hard pressed to find a better defenceman then Lidstrom in the last thirty years. With the longtime Red Wing announcing his retirement from the NHL after twenty glorious seasons, the time has come to look back and see how special a player he really was. While not as flashy as many of his contemporaries, you would be hard pressed to find one who is better and you most certainly will not find one who carried himself with as much grace as the future Hall of Famer.

Back in 1991, when a then twenty-one year old Lidstrom made his NHL debut, no one could have guessed just how could a player he would become. He definitely made quite a first impression, putting up sixty points in his rookie campaign and a +36 rating for the season. It was clear that Detroit had themselves a special player but just how special he would become, no one could have predicted.

After struggling for decades as one of the leagues worst franchises, the Wings finally started to turn things around during the late 80's. Add Mr.Lidstrom into the mix and not surprisingly, Detroit started their reign as the dominant NHL franchise...which has continued until this very day. After being swept in the1995 finals by the New Jersey Devils, the Red Wings reached their peak in winning back-to-back titles in 1997 and 1998. Seven years into his career and Lidstrom had already won two Stanley Cups and collected 366 points over that times pan. At that time, Nick was twenty-eight years old but was just scratching the surface of what would soon follow.

Over the next twelve years Lidstrom has won the Norris Trophy as the leagues top defenceman seven times, trailing only Orr's total of eight and matching Harvey's career total, won two more Cups in 2002 and 2008 and picked up a Conn Smythe Trophy in '02 to boot. Add to that the fact he has been a ten time first team All-Star, has a career point total of 1,142, leaving him sixth all time amongst defenceman, and it is easy to see why he is considered among the very best to have ever played the game.

All that being said, the thing that sets Lidstrom apart form any blueliner in the last thirty years is how he processed. To be honest, there is very little that the former third round pick did on the ice that would leave the masses shaking their collective heads. There was no Bobby Orr or Paul Coffey like rushes up ice, no Al MacInnis like bombs from the point nor was there the overall meanness in his style of play that a guy like Denis Potvin brought to the ice on a nightly basis. What fans witnessed watching Lidstrom was a maestro at work. Rarely if ever did he panic on the ice, always letting the play and game come to him. Watching Nick manage a game was as beautiful to watch as Coffey effortlessly skating through open ice. One being poetry in motion, while the other was a poet at work.

While every era has their far share of great players, very few of those are truly generational players. There are those rare view with eye popping ability like an Orr, Wayne Gretzky and Mario Lemieux but they are few and far between. In Nicklas Lidstrom, fans of this great game have been treated to watch a player who while not having the same raw ability of the aforementioned greats, he most certainly thinks the game at the same level. The National Hockey League has been blessed to have such a talent as Lidstrom grace their rinks for so many years, that no tribute could be too much for one of the true greats to have ever played the game.