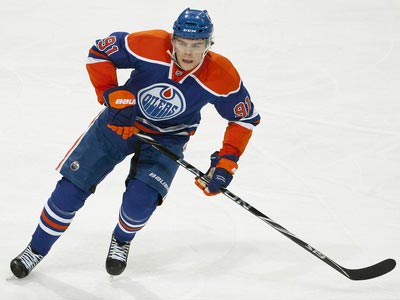 Edmonton - June 1, 2012 - Saying Edmonton Oilers winger Magnus Paajarvi suffered through a sophomore jinx in his second NHL season would be putting it nicely. The young Swede managed all of two goals in forty one games and spent much of the second half of the season in Oklahoma City. While no player likes to be sent to the minors, he played a big part in helping the Barons reach the Western Conference Finals, before bowing out to the Toronto Marlies. He clearly lost his confidence with the big club but to his credit, found his game with OKC. That being said, Paajarvi's AHL totals of twenty-five points in thirty-four regular season games and another eleven in fourteen post season outings, shows he may not be the scoring threat that many had hoped he would be...at least not yet.

With that being the case, the idea of having Magnus playing somewhere in the Oilers top six would be a big mistake. Giving the former tenth overall selection time on the Oilers second power play unit would be wise but come five-on-five, they need to lighten the load. The obvious spot for Paajarvi would be on the third line with captain Shawn Horcoff. From day one, he has shown to be defensively responsible in his own end and his speed and size make him a natural to slide right into that role. While the twenty-one year old has struggled with the physical side of the game since coming over to North America, it will be something he has to deal with regardless of where he plays but should be easier to accomplish with less pressure to put the puck in the net.

Horcoff has shown the ability to help youngsters along with their development but he needs to be given a role and kept in that role. While the veteran freely admitted he had trouble accepting the third line role he played for much of the second half, it is something he needs to come to grips with. In order for Edmonton to take any sort of step forward, they must start placing players in their proper roles and in Shawn's case, that's as a solid third line centre. He can still do his heavy lifting and contribute just fine from there and accomplish it without playing twenty plus minutes a night.

While this team would typically put a player like Ryan Jones, or possibly even a Ryan Smyth, as the other winger on such a line, it is something they must stay away from doing. A potential Horcoff-Paajarvi combo doesn't need a Jones or Smyth to be successful, what they would need is a player that has size, skill and sandpaper in his game....someone like Teemu Hartikainen.

The feisty Finn had a strong finish to the 2011-2012 campaign, after getting off to a horrendous start. The talented youngster was disappointed in not making the Oilers out of camp and did not play well to start the year in Oklahoma City. To make matters worse, he suffered a shoulder injury in late November that basically derailed the first half of his season. After returning from injury, Hartikainen found his game and earned himself a late season call up for a second straight season.

Hartikainen was given a look in a top six role but like Paajarvi, he isn't that player yet. Adding his style of play to a line with Paajarvi, whom he played well with in OKC, and Horcoff, should give the Oilers a solid third line option. While it may not be your traditional looking third line, it is one that would include three players that work their tails off and all have something to prove heading into next season.