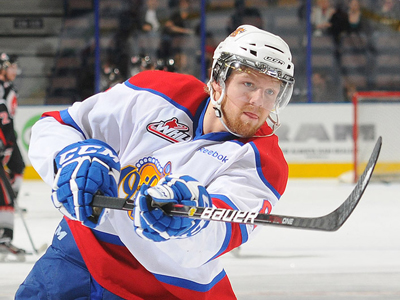 Edmonton - June 4, 2012 - It's really pretty simple. Unless the Edmonton Oilers find a character flaw with Nail Yakupov or are floored by an offer they get for the first overall pick, they would be foolish to not select the talented Russian forward. Having said that, if they decide to add a talented young blueliner to their stable of youngsters, that player should not be highly touted prospect Ryan Murray. Instead, the organization needs to be looking "in house" and seriously consider taking Edmonton Oil Kings defenceman Griffin Reinhart.

Generally, it is almost impossible to predict what type of player any of these kids will become during what would hopefully turn into a solid NHL career. With that being the case, as impressive as Everett Silvertips blueliner Ryan Murray looks and as exciting as it may be to add a player with the offensive abilities of a kid like Morgan Rielly, passing up on Reinhart would be far to difficult to do.

There are those out there that see Murray being Scott Niedermayer clone. With all due respect to Ryan, the likelihood of the youngster devloping into a player of that caliber, seems very unlikely. Niedermayer is one of the best blueliners to come along in the last thirty years and to think Murray could approach that level, in my mind, is nothing more then wishful thinking. The kid will unquestionably become a good NHL defenceman for a long time but he strikes me more as a Jay Bouwmeester type, then the former New Jersey Devils great. Not that there is anything wrong with Bouwmeester but he is more of a complementary piece, then a flat out stud.

In Rielly, you have a defenceman that has that rare ability of transitioning the puck with both his passing and skating abilities. As good as the kid is with the puck on his stick, it is his skating that might set him apart from the rest. While the seventeen year old has that potential of turning into an offensive juggernaut on the backend, his overall game might be of some concern. In his own end of the ice, the youngster is nothing special and at times, seems to shy away from the physical side of the game.

While not an overly large individual, at 6' and 190 pounds, Rielly is far from small for his age. His lack of interest to engage physically has to be a bit of a red flag. Another thing to keep in mind, is if the Oilers are successful in acquiring/signing current Anaheim Duck prospect Justin Schultz, would the need for a player with Rielly's skill set be essential? With their current mix of prospects and younger players on the backend, it is a valid question to be asking.

Which brings us to Reinhart. Much has been made of the Oil Kings blueliner in this neck of the woods and for good reason. Griffin brings the total package to table. Already a hulking figure at 6'4", Griffin is just starting to add muscle to his frame and should be a handful for opposing players to handle in the defensive end of the ice. While he has been criticized by some for a lack of physicality in his game, nothing could be further from the truth.

He is not the type of player that will go out looking for a collision, like Red Deer's Matt Dumba, but he does take players out effectively and without much fanfare. He is positionally solid and use a his reach to his advantage. While Reinhart will never be confused for Scott Stevens out on the ice, he will adjust as he matures and use his size to his advantage. Making him a force on a nightly basis.

For his size, he is surprisingly mobile and is comfortable jumping into the play, allowing him to contribute regularly on the score sheet. Add a heavy point shot into the equation and Griffin becomes even more difficult to ignore. Some will say that he needs to show more emotion on the ice and more of a fire in his belly but after watching him elevate his overall game throughout the WHL playoffs, nothing could be further from the truth.

A few weeks back, Edmonton Oilers play-by-play radio analyst Bob Stauffer, compared Reinhart to Montreal Canadiens legend Serge Savard and after thinking about it for a couple of minutes, you may not be able to find better comparable. Savard was a player who did it all for the Habs and did so with very little fanfare. While all the accolades generally went to the sexier names on the Canadiens roster, it was Savard who was as important as any of them, when it came to winning all those championship. The Hall of Famer was all about the team and winning, which seems to be the same path that Griffin Reinhart will soon be on.