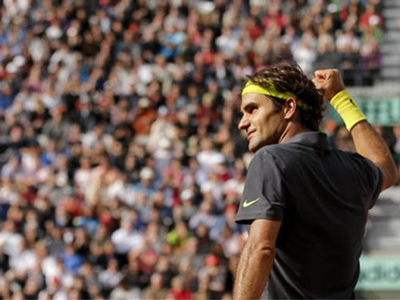 Edmonton - June 6, 2012 - Like any Grand Slam event, this year's French Open had the potential of some outstanding quarterfinal matchups...if the favourites could stay away from the dreaded upset. Fast forward nine days and you find the men's side of the draw with the top six seeds still alive, as well as number nine and twelve.

With that being the case, should we have really expected anything less then what tennis fans were treated to during the first day of quarterfinal action? Two five set battles, that saw Novak Djokovic and Roger Federer come from behind to advance to the semi-finals and a rematch of their duel from a year ago. Let us hope these two can continue to delight fans everywhere and give us all an encore presentation, of what was a brilliant match.

With his 3-6, 6-7, 6-2, 6-0, 6-3 victory over Juan Martin Del Potro, Federer has now reached the semis in twenty-nine of the last thirty-two Grand Slams and the quarters in all thirty-two. For all the titles Roger has won throughout his storied career, that stat alone might just be his greatest achievement. Think about that for a minute. Playing in thirty-two consecutive Grand Slams takes a player eight years but to play them at the level Federer has, is simply mind numbing. Especially when one considers the level of competition he has had to face over that span.

Del Potro started strong, running Federer all over the court, with what was an overwhelming ground game in the opening two sets. The number three seed looked as though he had run into the same brick wall that upset him at the 2009 US Open. He seemed unsure of how to deal with the hard hitting Argentine, on a cool rainy day in Paris.

After committing twenty-eight unforced errors in the first two sets, the former French Open champion had only fifteen the rest of the way, including an error free fourth set. While it did seem as though Del Potro may have tweaked his knee early in set number three, it mattered little to the rejuvenated Swiss master. As good as his opponent looked early on, Roger took his game to another level.

While Federer was putting the final touches on securing himself a seventh trip to the final four at Roland Garros, Djokovic had his hands full with Jo-Wilfried Tsonga. After taking all of twenty-one minutes to win the opening set and then jumping out to a quick 3-1 lead in the second, it looked as though the number one seed was going to cruise into the semis without much of fight from the Frenchman.

It was almost like a switch went off inside Tsonga's head after falling behind in set number two and he suddenly came to life. Like Del Potro had done to Federer in the early going of their match, the big man was running Novak ragged, placing ball after ball in the perfect spot. He was hitting one line after another, leaving the talented Serb shaking his head in disbelief.

After taking the next two sets, Tsonga was not only leading but had three match points at 5-4 in the fourth set, with Djokovic serving. Give credit to the five time Grand Slam winner, as he played two brilliant points to get to back deuce and saved a third break point before holding serve and evening the set at five all.

With the score 6-5, Jo would get another match point but once again, Djokovic had an answer. It seemed as though there was nothing Tsonga could do. Try as he might, it was abundantly clear that Djokovic would not allow himself to be beat. After holding serve and eventually taking the fourth set in a tight tiebreaker, he had broken the will of his opponent. Tsonga was in disbelief , while Novak was re-energized.

In pulling off the 6-1, 5-7,5-7, 7-6, 6-1 victory, the number one seed has now reached the semi-finals in eight consecutive Grand Slams and looks poised to take on Federer, in what should be another classic. The highly regarded Serb has come along way in last two plus years and is on the verge of doing something that no player has been able to achieve since1969, in holding all four Grand Slam titles at the same time. Just a few short years ago, no one would have ever believed that he could produce this level of tennis. That all changed once he started to believe in himself and the game of tennis is far better off because of it.