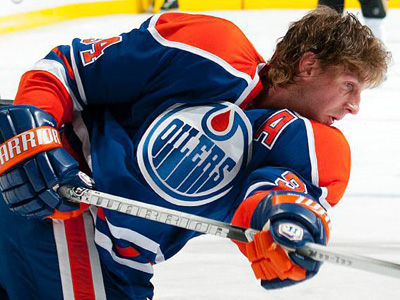 Edmonton - June 11, 2012 - Many fans are eagerly awaiting news of Ryan Smyth re-signing with the Edmonton Oilers. However, the longer we go without news of Smyth putting his signature on some sort of extension, the less likely it is to occur. In all honesty, from an organizational stand point, Smyth deciding to finish his playing career elsewhere might just be the best possible news they could receive…even though it would leave many unhappy people in Oil Country.

Bringing back Smyth for the 2011-2012 season appeared to be a low risk move that could have paid huge dividends in helping change the culture in the Oilers room. While the season started off better than anyone could have hoped for the veteran winger, the final two thirds of the year were a disaster.

While his totals of nineteen goals and forty-six points fell in line with what was expected from the fan favourite, he contributed next to nothing over the final two-thirds of the season. Smyth scored twelve goals, chipped in fourteen assists and was a solid +5 during Edmonton's first twenty-six games. In the following fifty-six, he managed only twenty points and was -10. To say it was a tale of two seasons would be putting it nicely.

Add to that, the limited on ice opportunities that some of the younger players had in a top nine role, because Ryan needed his minutes, and it becomes even more concerning. Smyth has always been looked to as a leader by most fans but many hinted that he was not overly thrilled with how he was used over the final thirty games of the season and still sees himself as a top six player. With all due respect to Smyth, he is no longer a top six forward and with how this team is currently structured, he is not even a solid third line option.

There is no guarantee the likes of Magnus Paajarvi and Teemu Hartikainen would not be moved in a deal to acquire help on the backend but let's go on the assumption they will be part of the club heading into 2012-2013. If you add those two into a forward mix that would likely include Jordan Eberle, Taylor Hall, Ales Hemsky, Shawn Horcoff and Ryan Nugent-Hopkins all in the top nine, not to mention the possible addition of Nail Yakupov and either Sam Gagner or his replacement as a second line centre, where does Smyth fit?

Edmonton not only needs to add better veteran players to their roster but they need to be placed in a role that would allow them to succeed. Using Ryan Smyth in a third role on a team that currently lacks any sort of physical jam in their top nine, would be a major mistake. At this stage of the game, signing the veteran winger would be nothing more than public relations move on the part of the organization. If they are looking at from an on ice point of view, the decision really isn't that difficult to make.