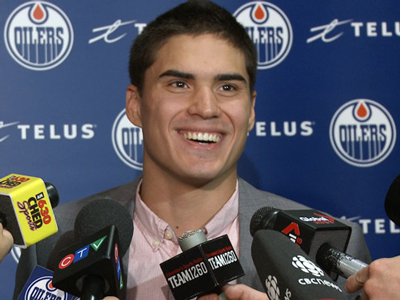 Edmonton - June 17, 2012 - The closer we get to Friday, June 22nd, the clearer it becomes that Nail Yakupov needs to be the Edmonton Oilers third straight number selection. Way back on April 11th, the day after the Oilers won the Draft Lottery, I wrote a piece stating as much and little has changed since.

Outside of being floored by an offer, there was no way this organization could not select the talented Russian. They obviously need another blueliner, or two, to help this team take the next step but passing on the Sarnia Sting winger would be the biggest mistake this organization could ever make.

You will here the argument from some that life would have been so much easier for the Oil if they had not won the lottery. That may very well be true but one thing is very evident, they would not be a better team for it. This being the third straight year Edmonton has had the top selection, it has become the norm around here to question how good the projected number one guy is. They did it with Taylor Hall and Ryan Nugent-Hopkins, so should come as no real surprise.

Add to that, the fact that Yakupov is Russian and alarm bells starting going of in some heads. Last time I checked, Russians are not the only players that play over in the KHL and outside of Alexander Radulov, what elite young players have decided to go over? That's right, no one. Be you Canadian, Russian, American, Swedish or whatever nationality, hockey players want to play in the National Hockey League. Could he possibly go over to the KHL? Anything is possible but if Yakupov turns out to be as good many think he might, it won't happen.

Some of the most dynamic players in the NHL today are from Russia and those players all take great pride in their country and represent it whenever and if at all possible at tournaments like the World Championships and the Olympics. Having said that, players like Evgeni Malkin, Alex Ovechkin, Pavel Datsyuk and Ilya Kovalchuk all have that drive to not only be among the best players in the world but prove they can do it in the best league in the world.

Those of us who live in North America, have not only been fortunate enough to watch the NHL all our lives but we have been lucky enough to see "our" best players play in the league. While today's Russian youngsters are likely not much different than kids anywhere else on the planet and do not know their history as much as they should, my guess is these players know they have an opportunity that many before them did not.

They may have never seen Valeri Kharlamov, Vladislav Tretiak, Igor Larionov, Vlacheslav Fetisov, Sergei Makarov and the recently passed Vladimir Krutov play but they are well aware that they were either not granted the opportunity of playing in the NHL at all or only received that chance near the end of their playing career. All of those players were among the best of their era but were never given the stage to show what they could do, a fact that is not lost on today's best Russian players. In my mind, Yakupov is cut from that same cloth. He wants to be the best and has the game to back it up.

The kid is unquestionably the most talented player in this year's Draft Class and is all about playing exciting hockey...tell me again how he isn't a good fit? He has been compared to the likes of Kharlamov and Pavel Bure, which are some lofty comparisons, but no one will debate that he is an elite level talent. Having the opportunity to add a player of his skill set to an Oiler lineup that already includes Jordan Eberle, Hall and Nugent-Hopkins seems almost to good to be true. For an organization that hasn't had a whole lot go right for them over the past twenty years, having Nail Yakupov fall into their laps might just be that final piece that allows them to once again become an elite NHL franchise in the very near future.