What's keeping the Oilers from hiring a new head coach?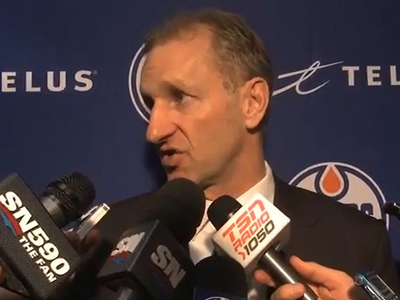 Edmonton - June 18, 2012 - With the 2012 NHL Entry Draft just days away, the Edmonton Oilers are still sitting without a head coach for the coming season. While there is no real need to have their guy in place for the draft, the question remains why is it taking GM Steve Tambellini so long to bring someone in?

Possible candidates like Norfolk Admirals bench boss Jon Cooper and Los Angeles Kings assistant coach John Stevens, were obviously late additions to the interviewing process because of their team's playoff success but why would they have been talking with the likes of Marc Crawford over the past ten days? Outside of Cooper and Stevens, should they have not taken care of everyone else long ago? The two most prominent names we hear as a possible replacements for Tom Renney, remain former Calgary Flames head coach Brent Sutter and Oilers assistant coach Ralph Krueger. If one of these two end up being their man, than what's the hold up?

It could be argued what route Edmonton should go with their next head coach but the time has come to make a decision. They have already added Craig MacTavish to their management team, are about to make their third consecutive first overall selection at Friday's entry draft and are less than two weeks away from free agency. While having a coach in place for the draft isn't a necessity, ensuring they have their man before "Free Agent Frenzy" is simply a must.

This year's free agent pool is paper thin on high end talent but there are plenty of pieces available that can help a club fill out their roster. For those who believe the head coach doesn't play much of a role in getting potential UFA's to sign with a certain organization, think again. While the final decision typically comes down to the almighty dollar and what works best for an individual's family or preferred lifestyle, the man behind the bench does play a role. Most players like a certain style of coach and/or system and if the Oilers have no one in place, what player in their right mind would sign for the sake of signing? Sure if they offer lengthy contracts to the Eric Belanger and Ben Eager's of the world, they will gladly take it but that is exactly what this franchise is looking to avoid.

Making any sort of signing without input from your head coach would be a huge mistake and as it currently stands, they would have no other option. There is a lot riding on who the Edmonton Oilers bring in as their next head coach but waiting until the bitter end to make that decision, is not the way to go. It is one thing to be thorough but it is something completely different to be unwilling to make the final call.. Steve Tambellini, you are on the clock.


8,399 Stories & Growing Daily...
To date OurHometown.ca has posted a total of 8,399 stories! News, sports, hockey, lifestyle, opinion and more!

Be sure to check out our Contributors and Columnists archives!
Click on Photo or Story Title for more info
OurHometown.ca News Database Last Updated:
Dec. 31, 2021 @ 8:03 AM EST