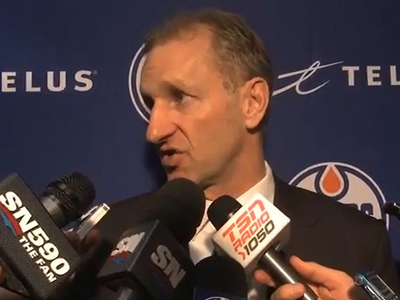 Edmonton - June 27, 2012 - It had been a long time coming but ultimately the Edmonton Oilers had their man the whole time. With the club having just announced Ralph Krueger as their new bench boss, the decision seems to be a popular one in Oil Country and more importantly, the right one for the Oilers and their still developing roster. Like his predecessor, the fifty-two year old Winnipeg native is a true teacher of the game and will play a big part in helping this franchise find their way back to respectability.

Much of the credit for Edmonton's improved power play has gone to Krueger, though adding Ryan Nugent-Hopkins into the mix sure didn't hurt. For the first time in years, the Oilers looked like they actually had a clue of what to do with the man advantage. Instead of just getting it to the point and hammering away, they finally started to use the high end skill to control their power play. Not exactly earth shattering stuff but something that had yet to occur. He is a technically sound coach and regarded by many in the game, as an astute hockey mind.

All signs point to the new bench boss having a good rapport with the players and keeping someone on board that they are familiar with, is a wise move. With the mass amount of movement this organization has gone through in recent years and still more moves to come, a stabilizing presence can't hurt. Krueger fits the bill and has already shown the willingness to run with the kids and put veterans in their place, if they don't produce. Players have to be held accountable based on their performance and that won't be an issue with Ralph being in charge.

When Tom Renney was forced to miss time because of post concussion symptoms, it was Krueger who was the guy that decided to give the youngsters more ice time. With the vets struggling to pull their weight, he turned to the likes Jordan Eberle, Taylor Hall and Nugent-Hopkins to play major minutes, where Renney was far more hesitant to throw caution to the wind. It was a move many wanted made earlier but one that was mysteriously ignored...until Krueger decided to step up and make it happen.

We have heard for weeks the possible candidates for the Oilers head coaching gig. Be it Brent Sutter, Marc Crawford, Jon Cooper, Bob Hartley, John Stevens or Oklahoma City Barons head coach Todd Nelson. The organization had options at their disposal but decided to keep it in house, with a man that appears more than ready, to take that next step as an NHL head coach. Krueger was not the sexiest name out there but still could turnout to be the best man for the job. For Steve Tambellini's sake, he better end up being the right guy.