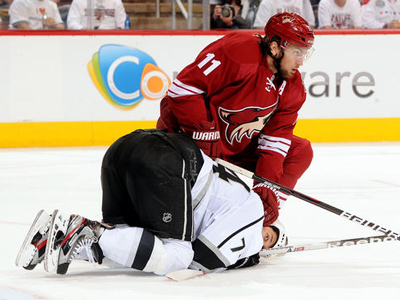 Edmonton - June 30, 2012 - At the moment, there are two things that matter most to fans of the Edmonton Oilers, the possible signing of Justin Schultz and their latest first overall selection to enter the fold, in Nail Yakupov. Schultz would fill a huge void within the Oilers organization for a potential top pairing D man and Yakupov makes what is already a pretty impressive group of elite talent upfront, look that much stronger.

With all the talk surrounding the needed improvements on their backend, there is another pressing need that has been somewhat swept under the rug...adding size into their top six. Specifically a second line centre. While those types of guys are not readily available, there is a certain player in Phoenix that while not as offensively gifted as some might hope, he would be a perfect fit for the Oilers. That player would be Martin Hanzal.

Hanzal has turned himself into one of the better two-way centres in the league, while becoming a fixture within the Coyotes lineup. He has never put up big offensive numbers, thirty-five points in 2007-2008 being his career high, but he does so much more. The twenty-five year old has become solid player in all areas of the ice, is good in the faceoff dot and has finally started to use his large frame to his advantage, as he was among the league leaders in hits during the 2011-2012 campaign, despite missing eighteen games.

While he has only scored twenty-four goals over the past two seasons, he's shown the ability to put the puck in the net on the man advantage, scoring ten of his goals on the power play. Once you add up everything he does on the ice and remember that he is 6' 5", you suddenly have the perfect compliment to Ryan Nugent-Hopkins. As good as RNH was last year, he is not ready to take on the hard minutes that many top centres deal with on a nightly basis. Sam Gagner has shown he is not capable of handling that role and if someone else isn't brought into the mix, that responsibility will fall to Shawn Horcoff.

This misconception that some have that Edmonton can run with Gagner as their second line centre is a pipe dream. Don't get me wrong, I like Sam as a player and he seems like a great guy in the room but he is no longer a good fit here. Keeping the status quo down the middle will accomplish two things; the Oilers continuing to lose tight games and fans losing their minds when Horcoff sees the ice far too much.

In order to be successful franchise, you need players down the middle that can play in all situations and against the other teams top players. There is little doubt, that the Nuge will become that guy in a few years. In all honesty, he could probably get away with it on some nights during the upcoming season but it would depend on the opponent. When your next option is another small and less defensively responsible centre, how is that supposed to work? It won't and that is why it is a essential for this organization to find that bigger body to play in the top six.

One would think the Oilers would start the Sarina Sting winger on right wing, with Taylor Hall on the left side, while Hemsky could play on his off wing with Jordan Eberle and Nugent-Hopkins Problem being, neither of those units could handle a top line, if Gagner is centring Hall and Yakupov. However, that wouldn't be the case with a player like Hanzal in at their disposal.

Adding the Coyotes assistant captain onto a line with Hall and Yakupov should be a good fit and give the two youngsters a physical presence to work with. Depending on the opponent, they could simply flip flop Hemsky with Yakupov and have a line that could handle tougher minutes, when necessary. Hemsky has been a guy who has played those hard minutes before and has managed to excel five-on-five. Hall has shown the ability to hold his own against opponents better players and Hanzal has made a name for himself by holding the likes of Joe Thornton and Anze Kopitar in check. Finally allowing the coaching staff to leave Horcoff in a third line role and handing the Nugent-Hopkins line softer minutes.

Tough to say if Phoenix would entertain offers to possibly moving the hulking Czech but with the potential of losing Shane Doan and having already stated that they won't re-sign Ray Whitney, scoring could be an issue. With the play of Mike Smith in goal and a backend that is slowly becoming one of the deepest in the league, the Coyotes might just listen...if the offer is enticing enough. Hanzal is signed for the next five years at a $3.1 million cap hit and it would likely cost the Oilers Gagner and possibly a little more.

That might seem like a lot to some but it comes down to whether or not they want to improve the team. It's not as though Hanzal is some nobody. He was selected seventeenth overall in the 2005 draft, whereas Gagner went sixth in 2007. Sam has been consistent throughout his five years in the league, putting up somewhere between 41-49 points a season. Hanzal has managed to score 26-35 a year during his first five seasons in the NHL but has also turned himself into a solid two way player.

They are both good players that bring different things to the table but each organizations have players in house, that fell a similar role. Edmonton have Nugent-Hopkins as their scoring centre and Antoine Vermette is better suited to playing in a secondary scoring role. This could be one of those deals that is good for both sides and one that would be worth exploring.