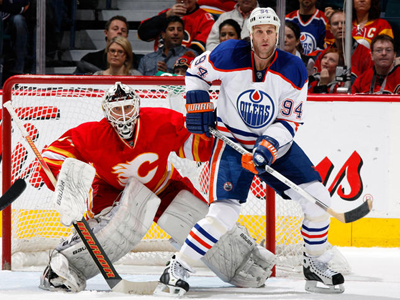 Edmonton - July 3, 2012 - No one could ever question Ryan Smyth's heart. Throughout much of his career, he has been that player that most organizations would kill for. He would do everything for the team and it was all about the crest on his Edmonton Oilers jersey. While that desire is unquestionably still their, unfortunately his game is no longer where it once was and his skill set doesn't fit in with this clubs needs. In my mind, the two year contract extension that Ryan signed on Sunday was the Oilers first mistake of the off season.

Smyth has always been a fan favourite in Oil Country. His blue collar work ethic and desire to do anything necessary for the club, has won him over many a fan in the provincial capital. Edmonton has always had a spot in their hearts for the less skilled underdog player and the fact he's an Alberta doesn't hurt one bit. Heck, there are those who strongly believe Smyth should have his #94 go into the rafters with the likes of Wayne Gretzky and company, once his playing days are over. No doubt that they love their "Smytty" but it's that attachment that keeps many from accepting the fact that he is what he is.

Don't get me wrong, I have no issue with Ryan whatsoever and was 100% on board with him being brought back into the fold last season. That being the case, the combination of where this franchise currently sits with their NHL roster and what Smyth was able to produce during the 2011-2012 campaign, tells me they needed to look elsewhere.

It's funny, leading up to free agency, many still felt the veteran winger should be brought back for another season in Orange and Blue. Yet there was growing faction of those who felt the Oilers needed to move on. That all seemed to change when news came that Smyth signed a two year deal for "only" $4.5 million. Apparently a steal of a deal. He took way less than he would have been able to get on the open market and showed, once again, that it was all about the Oilers and not Ryan. Upon further review, that really wasn't the case.

The most commonly used comparable for the thirty-six year old winger during the last year, have been a couple of Detroit Red Wing forwards, in Todd Bertuzzi and Tomas Holmstrom. Like Smyth, the pair are on the downside of their careers but wanted to stay in Detroit. Bertuzzi took far less than he would have received come July 1st, signing a two year extension during the season, with a cap hit of less than $2 million a year. Holmstrom, who may retire before the 2012-2013 campaign, had already taken a hit in previous years to stay in the Motor City, earning well below his market value and accepting a reduced role to stay with the Red Wings. In my mind, Ryan didn't take that much of a haircut to stay in Edmonton. If anything, the club bent over backwards to find him a spot...when one didn't really exist.

Looking at the Oilers current setup, they have an abundance of two things: Highly skilled youngsters to play upfront and a very small forward group in their top nine. With that being the case, they badly need to add size into the mix and bring the the right veteran guys to help their younger players with the transition. Anyone who followed the Oilers last season, will tell you their vets weren't good enough and were a big part of the issue in Edmonton. So the solution is to bring them all back? How exactly does that solve anything?

As much as the majority of fans would love to see Shawn Horcoff leave town, that won't be happening and frankly, he is the least of their worries. If Horcoff were actually used in a role as a third line centre, his overall performance would improve greatly. There are rumours floating about that Edmonton would consider moving Ales Hemsky but unless the payoff would be huge, what purpose does this serve? Ales is a guy that is coming off a couple of tough seasons and will likely rebound with a good year, if he is allowed to play with the young talent on this team. Hemsky may play the same position as Jordan Eberle and Nail Yakupov but I have a hunch he would be just fine on the left wing, if it meant he would be playing with the likes of Eberle, Taylor Hall, Ryan Nugent-Hopkins or Yakupov.

Which brings us to Smyth. Another veteran that is returning but not in a role that necessarily helps this team. Ryan could be a very good third line option on a team that has size in its top nine but the Oilers do not. Add to that, the fact he doesn't hit, nor skate particularly well and has made a habit of consistently taking bad penalties in the offensive zone, how is he a good fit on the third line? Do we really need to see another season of the Smyth-Horcoff-Ryan Jones line getting torched by the opponents top line?

Not to mention that bringing back Smyth will likely mean both Magnus Paajarvi and Teemu Hartikainen will start have to start the season in Oklahoma City. Some look at this as taking the Detroit approach and letting their prospects develop in the farm. Difference being, the Red Wings are contenders for the Stanley Cup every year and are loaded with high end veteran talent, whereas the Oilers contend for the first overall selection and have very little in the way of skilled experience in their lineup. Honestly, there is no need or reason for either of them to be in the farm. Both were hurt last year with Smyth's addition onto the roster and they seem to be headed for the same fate this season. Again, for what purpose?

Now if Steve Tambellini's plan is to look at moving the likes of Sam Gagner, Hartikainen and/or Paajarvi to acquire a big second line centre or more help on the backend, than signing Smyth was a wise move. If that is not the case, it makes no sense from an organizational stand point...outside of keeping the majority of their fan base happy. That is until they once again end up in the bottom five in league standings, which is exactly where this team is headed...as it currently stands.