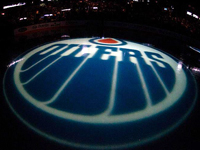 Edmonton - July 4, 2012 - The mood in Edmonton is pretty darn good these days. Everyone seems to be as happy as can be in Oil Country. The Oilers drafted Nail Yakupov with the first overall selection at the NHL Entry Draft and followed that up by winning the Justin Schultz sweepstakes. Add to that, the hiring of Ralph Krueger as their new head coach and the re-signing of Ryan Smyth and Darcy Hordichuk and it has been a busy week for the Edmonton Oilers organization. The fans seem pretty excited to see what the "Fearsome Foursome" can produce upfront and just how good this Schultz kid is. Amongst all the happy shiny thoughts, there are a couple of issues that have yet to be addressed. One is a continued lack of size in the forward ranks, the other being an unwillingness to change the veteran mix on their current roster.

While it's still only the first week of July and the Oilers will likely make some sort of move or moves via trade, this is what they currently have on their depth chart:

Forwards
Jordan Eberle, Ryan Nugent-Hopkins, Taylor Hall, Nail Yakupov, Sam Gagner, Ales Hemsky, Ryan Smyth, Shawn Horcoff, Ryan Jones, Lennart Petrell, Darcy Hordichuk, Ben Eager, Eric Belanger
Extras: Magnus Paajarvi, Teemu Hartikianen, Anton Lander, Linus Omark

Defenceman
Ryan Whitney, Ladislav Smid, Jeff Petry, Justin Schultz, Nick Schultz, Theo Peckham, Andy Sutton, Corey Potter

As far as the blueline goes, unless they bring in another body, which they likely will, what you see is what you get. Any sort of deal would probably include one of the last three names listed as part of a package, with Peckham being the most likely target. The key to turning things around on the backend will ultimately fall, literally, on Whitney's feet. If he can return to somewhere close to his 2010-2011 form and both Justin and Nick Schultz have good years in their first full season in Edmonton, the Oilers will be much improved on D. The same can't be said about the forward group.

Obviously, the addition of a talent like Yakupov and a return to form of Ales Hemsky would unquestionably make them more explosive upfront but it doesn't necessarily make them better. Looking at the list above, it's clear their young Europeans are going to be getting the short end of the stick when it comes to NHL opportunity but have the Oilers improved their bottom six by standing pat? Outside of Horcoff possibly playing in the role he is best suited for, the rest of the bottom six are a blenders dream scenario.

Players like Petrell and Hordichuk are good fits as depth forwards but Eager and Belanger were both unhappy with their roles last year and those won't change in 2012-2013. Add Smyth and Jones into the equation, who are basically the same player, and Edmonton have the same problem on their third and fourth lines. A lack of size, speed, toughness and any sort of an identity. In a word, they are vanilla.

While players like Paajarvi and Hartikainen are not world beaters, they bring something to the table that is missing in the bottom half of the Oilers forward group. While non one would confuse the young Swede for a crash and bang style player, he does have size and brings world class speed to the table. Also his ability to draw penalties almost at will, can not go unnoticed. Edmonton already have one of the best power plays in the league and it looks to be getting even better with recent additions.

As for Hartikainen, his grittiness and skill set alone should make him an automatic for the big club next season but as it currently sits, that looks unlikely. Bringing Smyth back ensures that both youngsters will start in Oklahoma City, unless they decide to move Jones in a deal. This making the decision to bring # 94 back on a two year extension, made little to no sense.

All year long, cries came from fans and media alike. The Oilers are too easy to play. They lack jam in their lineup. Their veteran players aren't carrying their weight. So what does management decide to do? Keep the status quo. I don't doubt a rebound year from guys that were playing hurt and the talents of Yakupov and Schultz will help greatly but will it actually produce anymore W's? Do the same problems not exist?

After the 2008-2009 season, a big part of what went wrong was tied to the underwhelming performances of their veterans but much of the blame landed on head coach Craig MacTavish. While it was clearly time for the Oilers bench boss to move on, the story the organization was selling, revolved around renewed hope with the hiring of Pat Quinn and Tom Renney. Quinn was lucky to make it to the end of the season.

At the end of the 2011-2012 campaign, it was much of the same. Vets didn't produce and again they decide to bring in a new head coach. The problem must have been Tom Renney. Like MacT before him, one could easily make an argument for relieving Renney of his duties behind the Oilers bench but to do nothing to address obvious concerns within the veteran core seems almost unthinkable. Is there no accountability? If it's the same song and dance this season, what do they do? It can't always land on head coach.