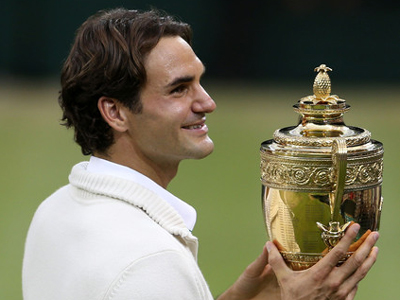 Edmonton - July 9, 2012 - There are those out there that feel Roger Federer is unquestionably one of the true legends of the game but point to his failures against Rafa Nadal, as reason to not crown him as the "Greatest of All-Time". While their may be some merit to that argument down the road, after watching Roger capture his seventh Wimbledon title against Andy Murray on Sunday afternoon, there is little doubt who sits atop the list as the best player the game of tennis has ever seen.

With his latest win at the all England club, Federer won seventeen career Grand Slam titles...three more than runner-up Pete Sampras. More often than not, many look to the Slam total when determining the best of all time but there is more to it than just the number.

Before the mid to late 80's, the Australian Open was never a tournament that players attended on a regular basis. When you consider the three greatest players of mid 70's - early 80's, in Jimmy Connors, Bjorn Borg and John McEnroe have one title between them and the trio participated in a grand total of four Aussie Opens, it says a fair bit about how the tournament was perceived in the past. With that being the case, players that have played the majority of their career over the last twenty-five years, have a big advantage when it comes to achieving a bigger career slam total.

If you take the Australian out of the mix, there are two names that standout above the rest: Borg and Federer. Sampras had a wonderful career, which included seven Wimbledon crowns, five US Open trophies and two Australian Open titles but he never got the job done at Roland Garros. Not only did he never win a French Open title but he didn't even reach the finals. In fact, he only reached the semi-finals once in thirteen trips to Paris.

Also, one must take into consideration that Sampras had the weakest competition to deal with during his peakyears, making his lack of success at the French and even his so-so results in Australia a bit of a question mark. Borg had to deal with the likes of Connors and McEnroe in their prime and an up and comers like Ivan Lendl, Sampras had Andre Agassi and a bunch of fading stars like Boris Becker as his toughest road blocks. Where as Federer has had by far and away the toughest opponents to deal with but has continued to dominate on all surfaces.

Bjorn Borg never found a way to add that elusive US Open to his collection of six French Open and five Wimbledon titles but it was not because of poor performance. He reached four finals, losing twice to Connors and two others against McEnroe and lost another semi-final to Connors. On all five occasions, he lost to the eventual champion. In my mind, when you add his results in New York to his dominant run in London and Paris, Borg is a notch above Sampras in the pecking order.

Which brings us to Federer. Roger currently sits in a tie atop the list of major winners, in the open era, at Wimbledon with seven, US Open with five and Australian Open with four. While he has only won one French Open title over his glorious career, he has lost in four finals and one semi-final to Nadal and also fell to Novak Djokovic in this year's semi-final. Some pretty heady stuff indeed and if he hadn't had to play against arguably the greatest clay court player of all time in Nadal, one would have to think Federer would currently be sitting with twenty Grand Slam titles.

He has been great on all surfaces and is without question, playing in the greatest era the game of tennis has ever seen. The only era that comes close, was the previously mentioned mid 70's - early 80's and while they were just as good at the top of the food chain, the depth in today's game is something this sport has never seen previously. Making Federer's run of reaching at least the semi-final in thirty-two of the last thirty-seven Slams, even more staggering.

Ultimately, Nadal may end passing Federer's all time Grand Slam mark but unless the Spaniard wins a few more championships away from Roland Garros, he could not be looked upon as the greatest of all time. With Rafa sitting with eleven career titles to date, he has already completed the Career Slam, and his dominance on the red clay gives him a legitimate shot of reaching twenty career titles. However, you would think the law of averages would have to kick in...at some point. Nadal has lost one match in eight years in Paris and that alone has given him his shot at becoming the most decorated player in tennis history.

There is no guarantee that day will ever come but until it does, there is one player that stands above all the rest and he also currently sits atop the ATP Rankings for the 286th week of his illustrious carer. That man is none other than Roger Federer.