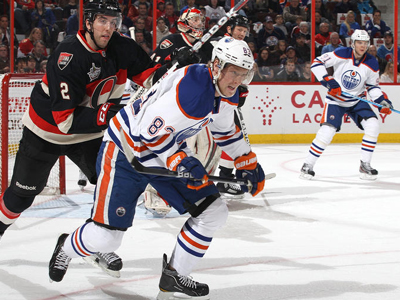 Edmonton - July 13, 2012 - When the Edmonton Oilers and Ales Hemsky agreed to a two year contract extension leading up to last season's Trade Deadline, both sides seemed to be making a statement. The Oilers clearly still wanted to keep the talented winger in the mix and the nine year veteran was more than ok to continue playing with the only NHL organization he had ever known. All seemed good but something happened along the way that seems to have changed things...Edmonton won the NHL Entry Draft Lottery and subsequently adding Nail Yakupov to their stable of highly skilled youngsters.

With Yakupov being a right winger and Jordan Eberle also manning the right side, some feel Hemsky has suddenly become the odd man out within the Oilers top six. When in reality, he has become even more important and should find himself in nothing other than an Edmonton Oilers jersey to start the 2012-2013 season. This team needs a veteran presence that can produce numbers and looking at this roster, # 83 is the only one that fits that bill.

It is true, the Oilers do have three RWs that are not suited to play a bottom six role but they are also a club that doesn't have a player over the age of twenty-two years old, that is capable of playing top six minutes...except Ales. While the gifted Czech has had his fair share of injuries to deal with over the past three seasons, outside of last year, he has done nothing but produce points throughout his NHL career.

Hemsky has managed to produce 431 points in 559 career games, playing, for the most part, with very little talent around him. If he manages to stay healthy, he will finally have a season in which he will be playing with players that are frankly better than the former thirteenth overall selection. In my opinion, it is very simple. If Yakupov is more comfortable on his off wing, than leave him there.

If my memory serves me correctly, the problem Hemsky had last season was when he was not playing with any of the kids. For the first time in his career, this club had talent like Eberle, Taylor Hall and Ryan Nugent-Hopkins on its roster and yet he was playing with none of them. While having the trio on one unit was fun to watch, it left little the Oilers as nothing more than a one line team...something Hemsky was all to familiar with.

Not surprisingly, his game improved greatly when he was paired with Hall and as I have mentioned in previous columns, he looked good in brief appearances with RNH and Eberle. Hence why having three so called "right wingers", isn't an issue at all and should not lead to Hemsky's departure from the provincial capital. Don't forget, he signed a two year deal to be a part of this organization moving forward. Why not give him that opportunity?

Ales gives them that veteran presence within the top six and allows head coach Ralph Krueger the option of using him on a line with Hall and take on those so called "tough minutes" or play him on the left side with Nugent-Hopkins and Eberle. Heck, they could even play him with Yakupov and leave the other three together. Point is, Hemsky gives them options that no other veteran player on this roster does.

While there is no guarantee Ales Hemsky finishes his two year contract in an Edmonton Oilers uniform, he most certainly needs to start his newly signed deal as one. This organization currently have the pieces in place to pull off a deal that could potentially improve their roster for the upcoming season and while Hemsky is clearly one those pieces, he is a card that General Manager Steve Tambellini would be wise to stash way for use on another day.